The Puerto Rican superstar spoke to recent criticisms—and offered a rousing, history-making performance.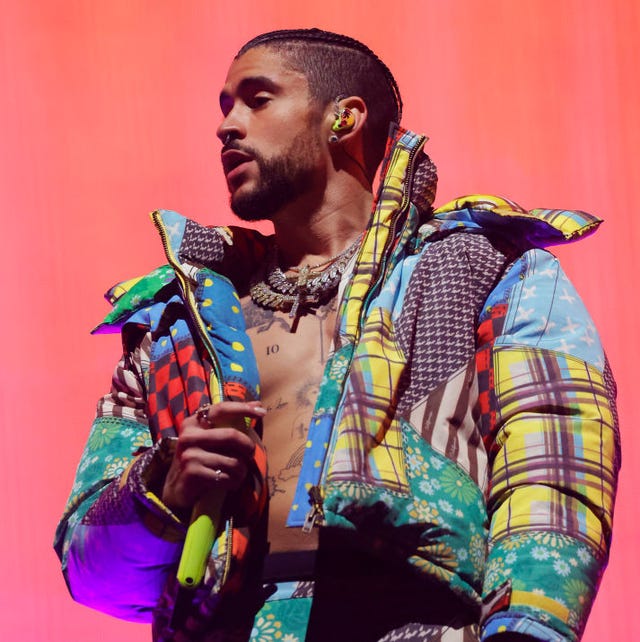 FRAZER HARRISON//GETTY IMAGES
Over the past year, Bad Bunny fans have learned how to share their favorite performer with the world—and it happened again this weekend when the rapper and singer became the first Latinx artist to headline Coachella. The music festival might be famous for crochet sundresses and cowboy boots, but it wasn't hard to spot people in the crowd wearing Puerto Rico jerseys and Bad Bunny x Adidas sneakers, making it clear who they'd really come to see.
The two-hour, high-energy set served as a retrospective of Bad Bunny's rise over the last six years. He flowed between Un Verano Sin Ti earworms like "Tití Me Preguntó" and earlier fan favorites like "La Difícil" and "Safaera," and brought out collaborators such as Jowell Y Randy and Jhayco. (A planned performance with Post Malone was scrapped due to faulty mic wiring, an issue that impacted other artists, including Becky G and Kali Uchis, earlier in the day.) Bad Bunny is known for a fluid sense of style which often includes mesh tops and pleated skirts, but this time he appeared in an open puffer jacket, showing off a new chest tattoo, his six-pack abs, and a trio of blinding diamond chains—the uniform of men in music wh0 know they're on top of the world.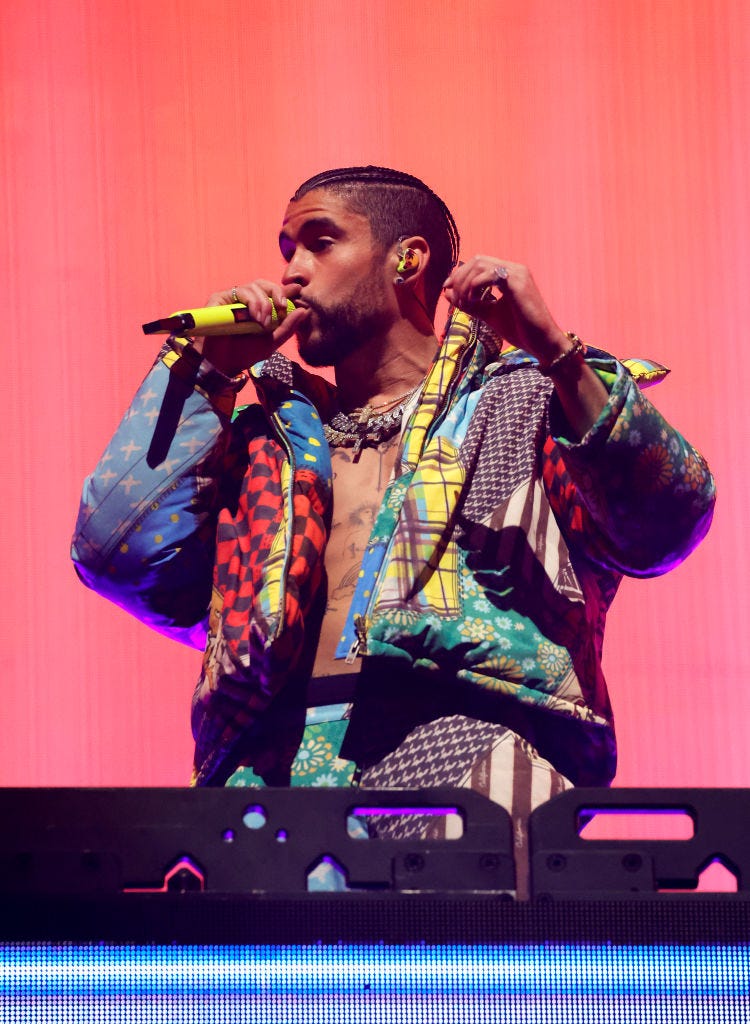 FRAZER HARRISON//GETTY IMAGES
In between songs, Bad Bunny played clips that offered a history lesson to those in the crowd who were less familiar with him—not just on his ascent, but on the music and legends who came before him, featuring vignettes on the style and sound of Puerto Rico and artists like Tego Calderon, Hector Lavoe, and more.
While Bad Bunny often pays homage to the sounds that shaped him, the videos felt especially meaningful this weekend. For the first time in his rise to the top, he's been the subject of real criticism from fans after a recent TIME cover story featured comments on cultural gatekeeping and colorism within reggaeton that many saw as flippant.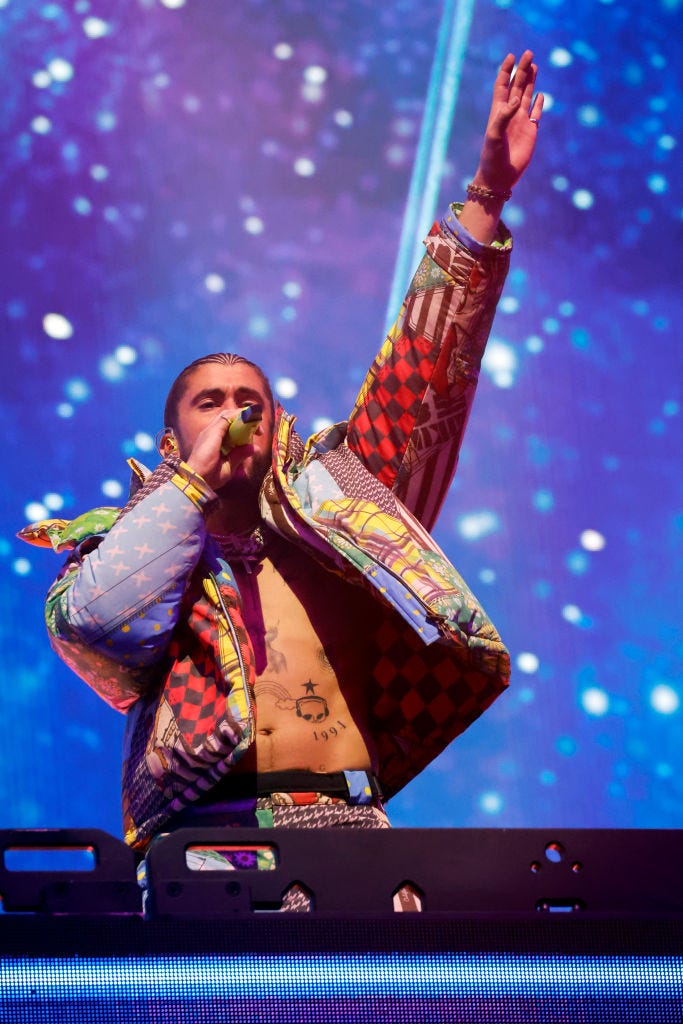 FRAZER HARRISON//GETTY IMAGES
It's safe to say the singer saw the discourse, because he addressed it all at the halfway point of his performance, insisting that he is the only trustworthy source of insight into his own life. He reiterated that, counter to what was recently written about him, he would never regret or retract the political meanings of songs like "El Apagón (The Blackout)," which has become an anthem of pride in the resilience of the Puerto Rican people. His educational interludes heavily featured Afrolatino talent, driving home the point that he's well aware of the true creators of the genre that made him. He hinted that he would address the discourse the day before the festival began, writing alongside a series of thirst traps on Instagram, "I have so much to tell you, but I better tell you tomorrow at Coachella.."
Advertisement – Continue Reading Below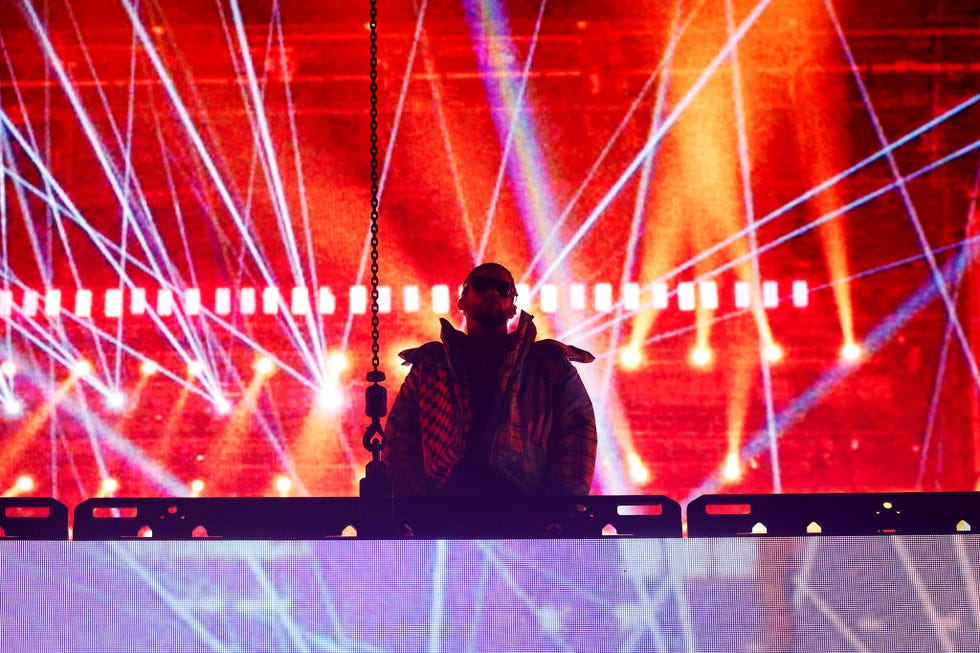 FRAZER HARRISON//GETTY IMAGES
Few stars can escape the wrath of the internet, but if anything, the fervent reaction to Bad Bunny's every move signifies the magnitude of this point in his career. His fans are hard on him because they love him. While he's worked to stay humble, people have increasingly deified him—which makes every out-of-context quote, every rumored relationship, and every career move open to the utmost scrutiny. His Coachella performance, however, was a clear response to it all: It's going to take a lot more than conversation to count him out. And based on the visible responses to his performance—the screams, the tears, the unfiltered joy—the fans aren't finished listening yet, either.