Few social scenarios will spark a debate more heated than wedding guest etiquette. Should dresses always be floor-length? Are plunging necklines considered inappropriate? And perhaps the single-most asked question: Can you ever wear white?
Every June since 2014, Google searches querying the choice to wear white as a wedding guest increased on average by 46%. The controversial wardrobe decision has spawned countless opinion pieces online — some from disgruntled brides who felt upstaged, others from vanguard attendees defending their decision.
Over the weekend, the conundrum was reignited when singer Lana Del Rey wore a white and pink mini dress to the high-profile nuptials of actor Margaret Qualley and Rey's music producer Jack Antonoff. On Saturday, Rey arrived at the Long Island Beach wedding (which also saw Zoe Kravitz, Taylor Swift and Cara Delevigne as guests) in a LoveShackFancy white halter-neck dress with a pink floral print and white lace trim. She paired the dress with a white cardigan, a baby blue Prada Re-Edition 2005 Nylon mini bag and blush-toned LemonJelly platform slides.
Lana Del Rey arrived at the high-profile wedding in a white and pink dress some are saying was too close to bridalwear.
Peter Cruz/SplashNews.com
"I love you Lana but you can't wear white to a wedding!!!" Wrote one fan on X, formerly known as Twitter. "Wearing white to her friend's wedding she truly doesn't give a damn," chimed another. While many were riled, some admired Rey's blatant disinterest toward traditionalist dress codes: "She doesn't give a f***, love her."
In our largely secular western society, weddings are one of the last arenas where antiquated rituals and superstitions thrive. Wearing black to a marriage ceremony can be seen as wishing bad luck to the newlyweds, whereas some believe opting for an all-red ensemble signals infidelity and triangulation with the groom and bride.
Some couples choose to embrace the white-hot contention — as was the case with Tish Cyrus, mother of singer-songwriters Miley and Noah Cyrus, who married Australian actor Dominic Purcell in Malibu also on Saturday. The ceremony's color scheme was white and ice-blue: Groomsmen matching Purcell's outfit in identical white button-downs, while bridesmaids wore floor-length light blue gowns just a few shades darker than Cyrus' bridal look.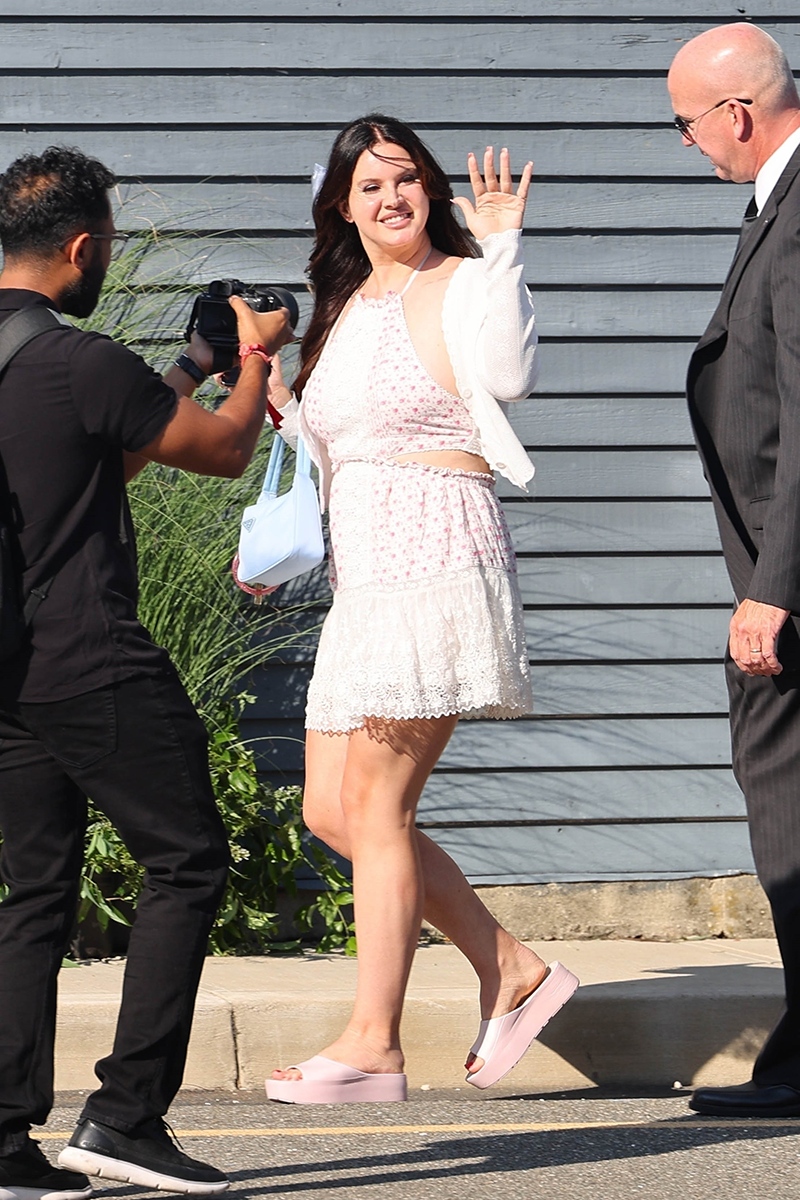 Rey has long displayed an ambivalence to fashion — namely the high-fashion luxury labels her contemporaries clamor to be seen in — and as a result her outfits are often seen as divisive. In 2020, Rey made headlines when she revealed she bought her Grammys outfit last-minute at the mall. At the 2021 Variety Hitmakers red carpet in December, she arrived in what was later identified by fans as a $18 dress from fast fashion behemoth Shein. Rather than a flagrant act of disrespect, it's likely the sartorial expectations that come with certain events simply don't register to someone who doesn't prioritize fashion.
Fans following the event online wondered if Rey performed at the wedding, and if so whether she sang "Margaret" —  her 2023 track dedicated to the couple's relationship. Hopefully, at the very least, she didn't play "White Dress."