After a string of scandals saw her black-listed in Hollywood, Lindsay Lohan has managed to relaunch her career in the most unlikely of ways.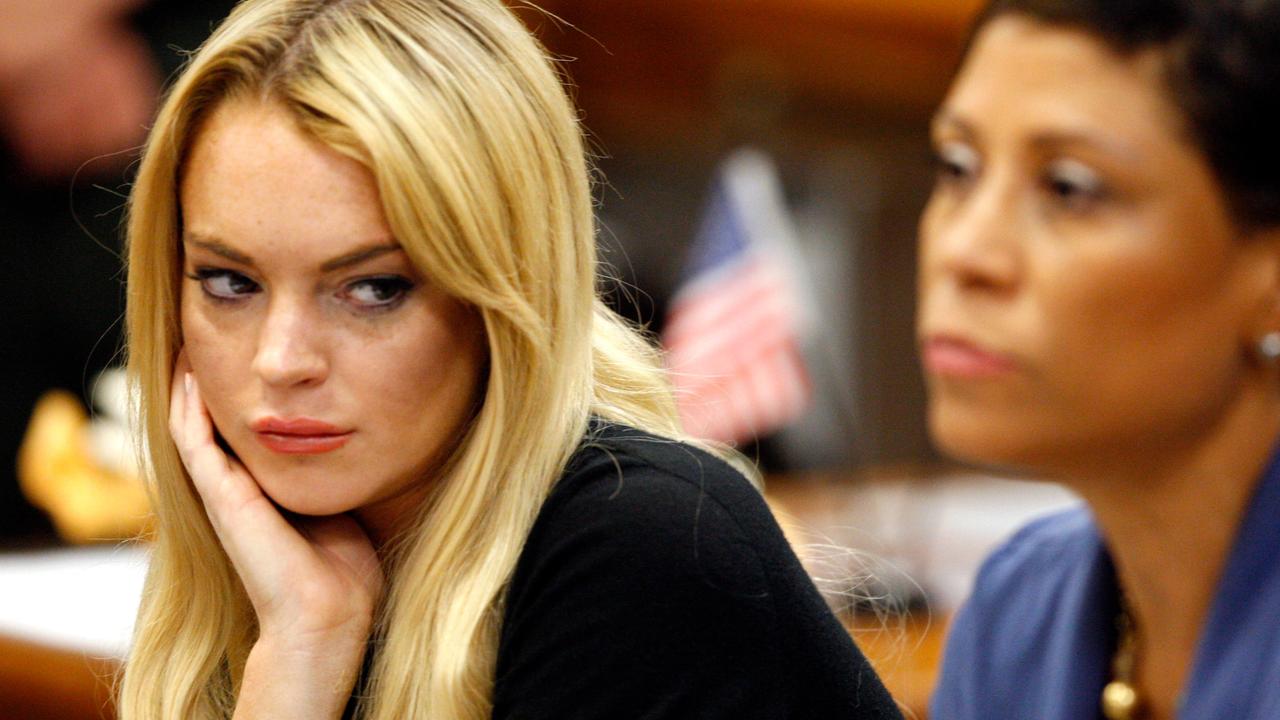 Lindsay Lohan. Picture: EPA/DAVID MCNEW / POOL
More From Celebrities Gone Bad
She's been written off by film bosses and thrown on to the Hollywood scrapheap after years of self-destruction.
But now, 20 years after she made her movie debut, former child star Lindsay Lohan — the very definition of the term "troubled actor" — may have finally conquered her demons in the industry's most unlikely redemption story.
Now 32 and living in Dubai away from the Hollywood paparazzi who captured her very public downfall, the star has announced her big showbiz comeback with the launch of new MTV reality show Lindsay Lohan's Beach Club, to be screened globally.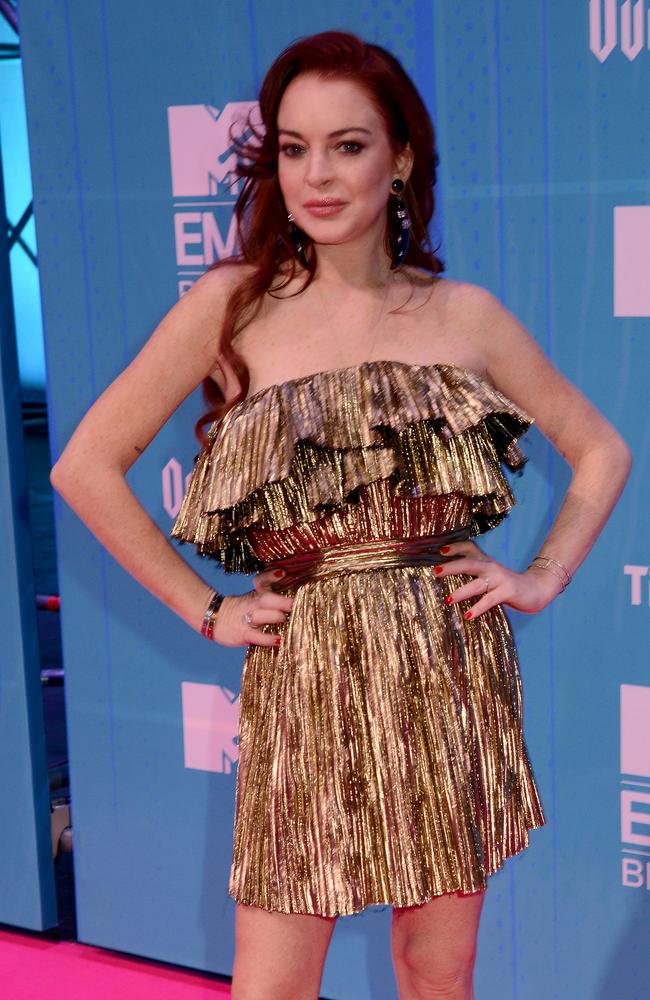 Lindsay Lohan attends the MTV EMAs 2018 in November. Picture: Dave J Hogan/Dave J Hogan/Getty Images for MTV
It's a fresh start that many industry figures never thought they would see and people are excited — particularly US fashion bible Paper, who gave Lindsay the cover on their annual 'Break The internet' issue, for which they dressed her as Disney princesses.
So how has Lindsay orchestrated this unlikely career comeback?
A source close to the star revealed: "Lindsay is a changed woman — she hasn't been this focused in years.
"She now feels safe and has got good people around her. She's grown up a lot and is even turning up for work on time — sometimes even early!"
Lindsay's new show will see her as a Lord Sugar-style boss running the rule over promoters of her resort in Mykonos, Greece, located on the same beach on which she was filmed being assaulted by her Russian ex-fiance Egor Tarabasov in 2016.
She credits that moment in her abusive relationship as the turning point in her life.
Explaining how the unsavoury scenes inspired her career comeback, she explained: "That was the moment where I switched and I was like, 'I'm going to take control of my life ­completely, and fire everyone and just rehire them when I'm ready.
"And that's why I'm here today, because it was on that beach where I got hit. I said, 'You know what? I'm going to get that beach. It's going to be my beach.'"
Her new life in Dubai, where she has lived since 2015, has given Lindsay the calmness she desperately needed.
For starters, strict laws mean ­paparazzi are illegal, there is zero ­tolerance of drugs, she barely gets recognised and, in a nod to her love of cigarettes, it's "too hot to smoke".
She describes the city, in the United Arab Emirates, as a "health-conscious place" that "promotes positivity. It's not like New York, the city that never sleeps."
Lindsay Lohan and Egor Tarabasov fighting on the beach. Picture: No Credit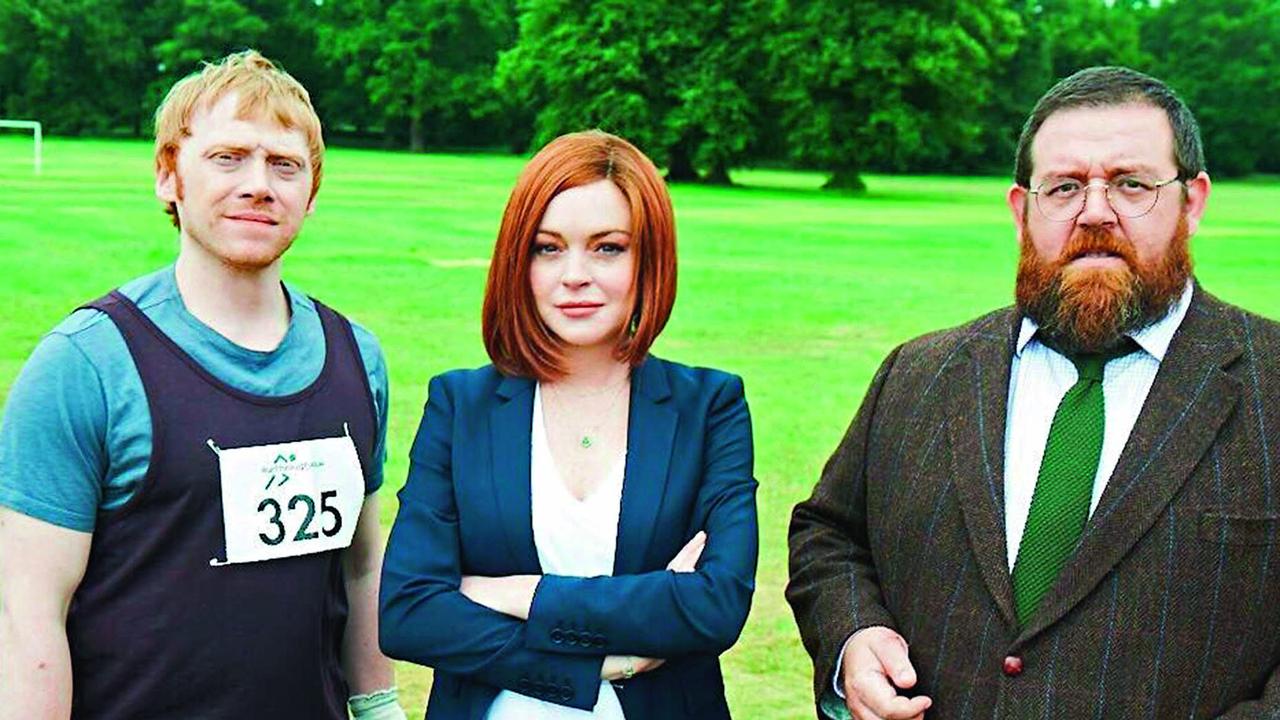 Her most recent acting role was in Netflix comedy Sick Note
Instead of partying and desperately seeking film roles, she meditates twice a day, cooks at home for family and friends, learns languages — she's fluent in French and currently is ­getting to grips with Russian — and enjoys jetskiing and kite surfing.
Workwise she's developing her own make-up brand, she's now the face of Lawyer.com, an online legal consultation business which sponsors her new show, while also continuing to act, most recently in Netflix comedy Sick Note alongside Rupert Grint and Nick Frost.
She rarely goes back to the US, preferring to live in the Middle East and pursue her acting career in Europe.
Speaking about filming Sick Note, she said: "Working in London, filming in the UK in general, is so straightforward. You do the job and talk about it afterwards.
"In Hollywood, all eyes are on you the whole time. Every second you are on the job, you have a personal life to deal with as well as the work."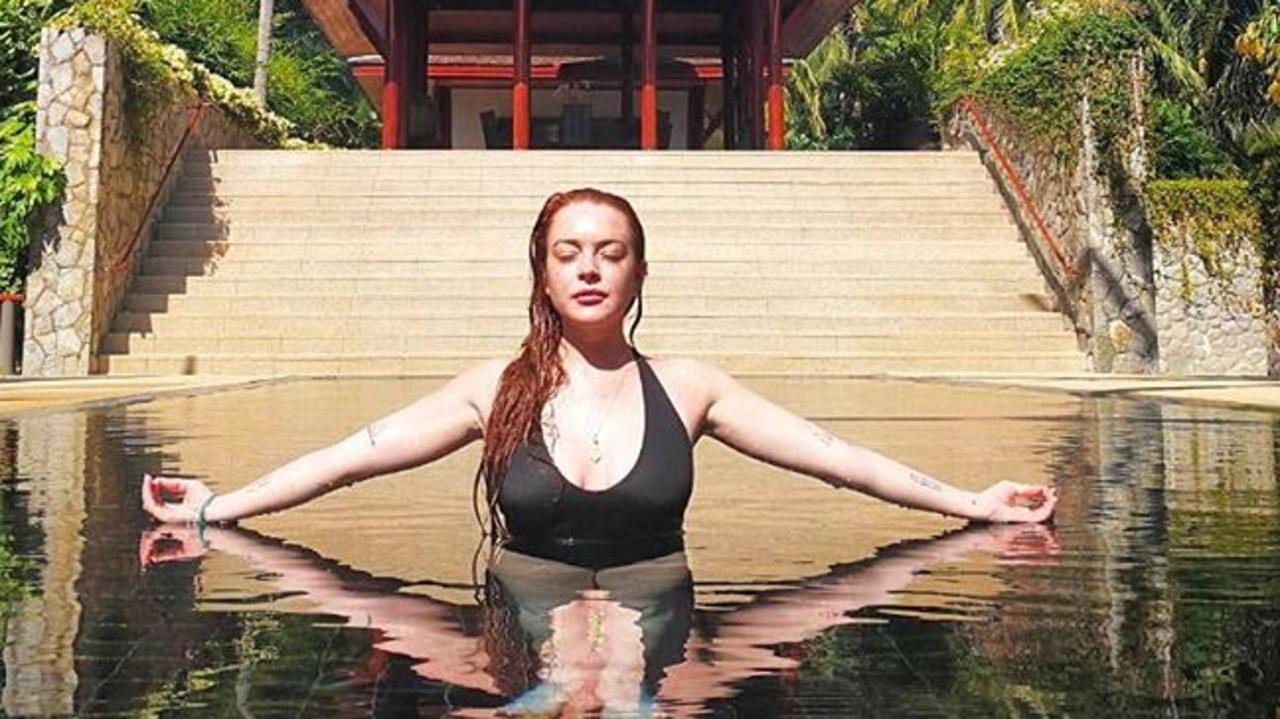 Lohan now meditates twice a day. Picture: Lindsay Lohan / Instagram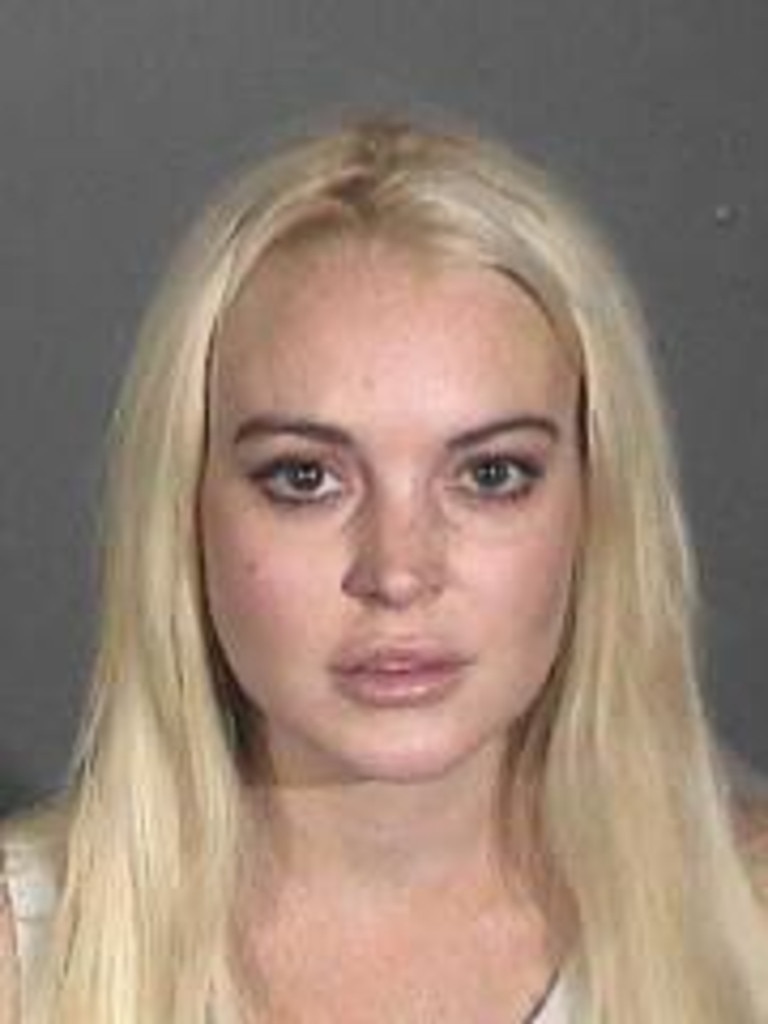 Lohan arrested in 2011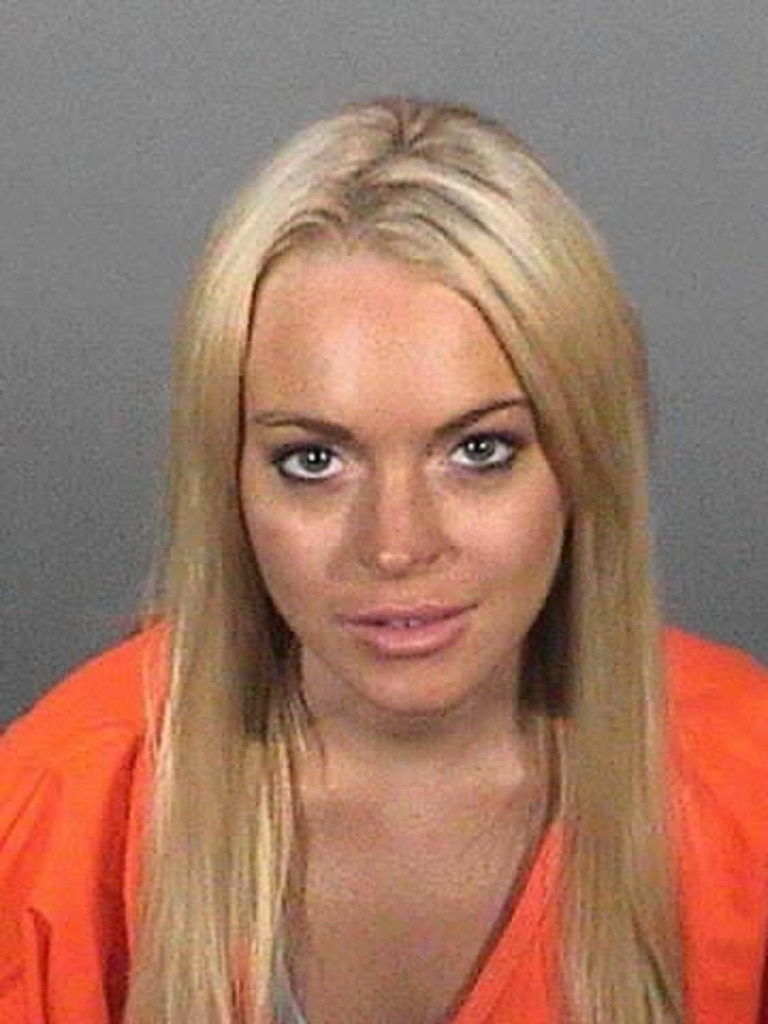 Lohan in a 2010 mugshot
But hiding away in Dubai cannot always protect Lindsay from controversies and she has been caught out on social media.
During her hiatus from showbiz, Lindsay has upped her humanitarian efforts. This has seen her visit Syrian refuge camps in Turkey and meet Turkish president Recep Tayyip Erdogan to discuss the refugee crisis.
But in September, she accused a homeless Syrian refugee family of trafficking children — which was all captured on an Instagram Live post.
The footage concluded with Lindsay chasing the family through the streets, trying to take the children back to her hotel, before being punched by the mother.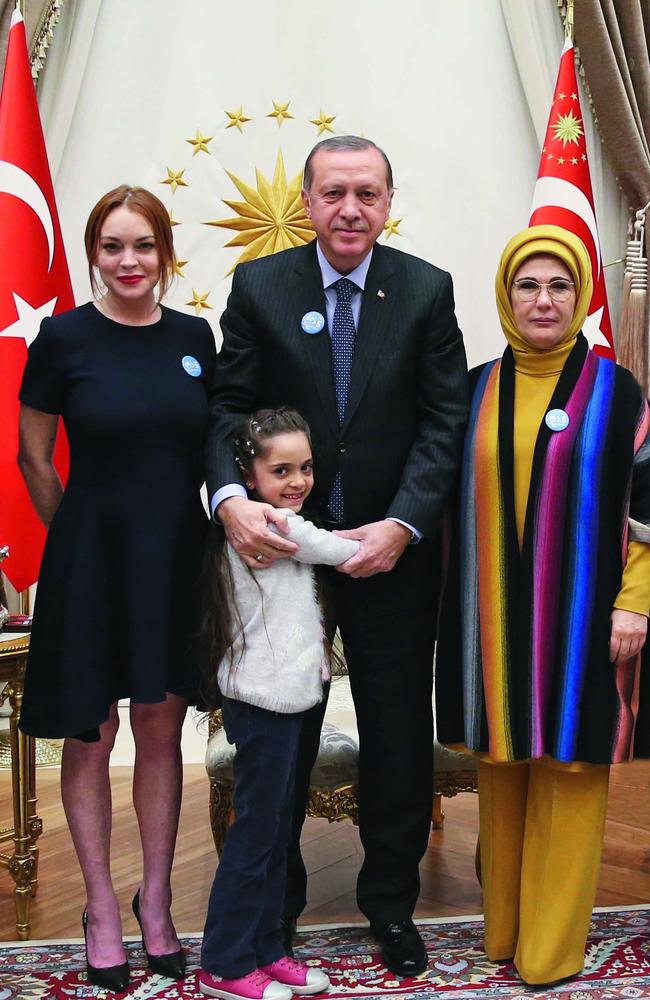 Lindsay Lohan poses next to Turkish President Recep Tayyip Erdogan, his wife Emine Erdogan and Bana el-Abed. Picture: Turkish Presidency/Yasin Bulbul/Anadolu Agency/Getty Images
In her interview with Paper, Lohan was reluctant to talk about the incident, but she emailed a statement about it via her PR saying: "I read the situation wrong. I've learned from it. And that's all I have to say."
But having so many followers — 7 million on Instagram and 8.86 million on Twitter — is also an asset when setting up a new business and TV show. As well as her club Lohan Beach House in Mykonos — where VIP cabanas can be rented for $1769 a night — there's another, Lohan Beach House Rhodes.
Despite the Greek island being known for its wild parties, Lindsay, in keeping with her new approach to life, insists her resort is family- friendly, saying: "I really wanted to make it a place where people can go with their kids and feel safe.
"They can have fun and there are not cameras every second."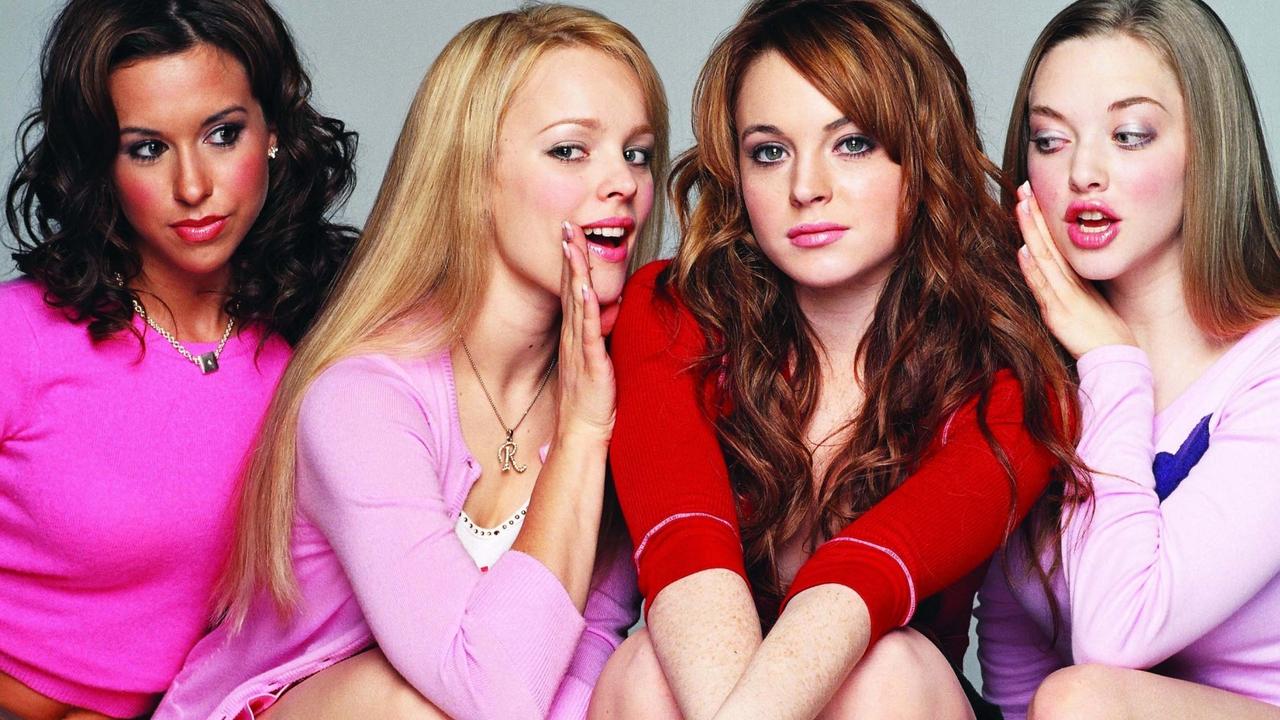 Lindsay Lohan in Mean Girls
And, although she admits she is still prone to the odd night of fun, she now claims to have controlled her demons.
She added: "I take care of myself. I'm healthy. I like to have fun but that doesn't mean I need to go out and drink and be crazy. I have a good relationship with that. It's ­funnier to watch other people party."
It's about time Lindsay took a back seat when drinks are flowing.
Her wild child days during the Noughties saw her nosedive from child acting prodigy to certified trainwreck.
Born in New York in 1986, she was signed by Ford Models aged three before moving to LA and becoming Hollywood's most in- demand child star thanks to turns in Disney's 1998 film Parent Trap and 2003 cult classic Freaky Friday.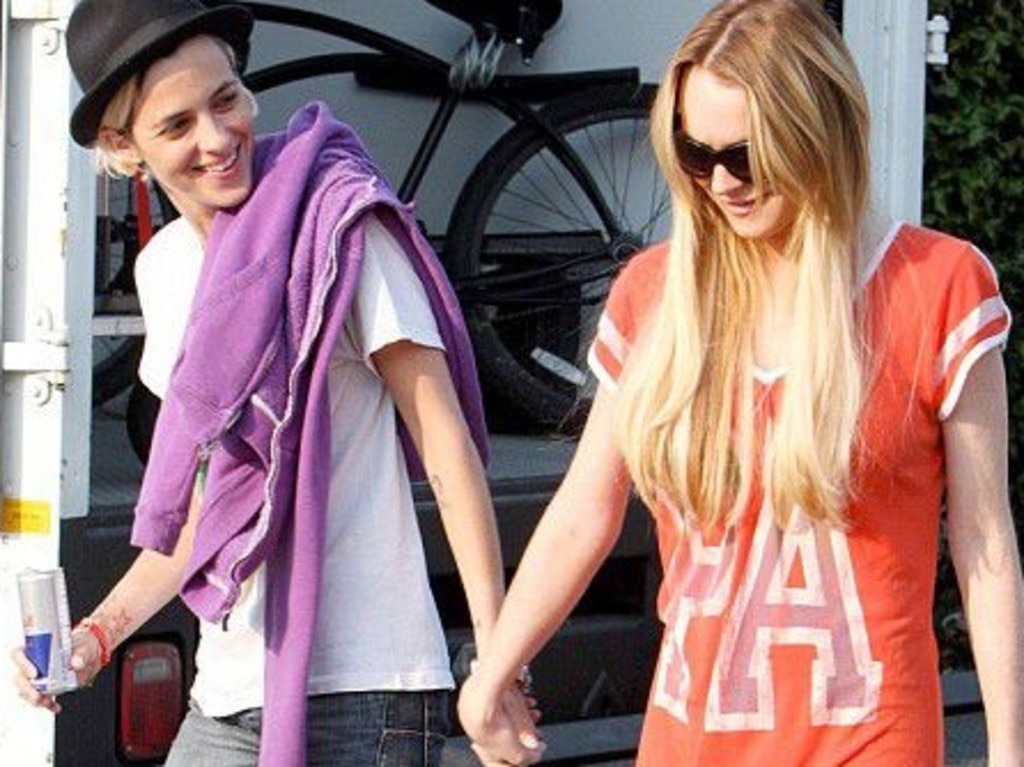 Samantha Ronson and Lindsay Lohan.
At the age of 18, she landed the role of Cady Heron in 2004 movie Mean Girls which turned her into a superstar. Everybody wanted to know about Lindsay and she gave the US gossip magazines everything they needed — and more.
Between 2007 and 2012, she had 20 run-ins with the law and lived in and out of LA hotels when she was not in rehab for drugs and alcohol use.
She was a familiar face at showbiz parties in the pre-social media era where US socialites including Paris Hilton and Nicole Richie were grabbing more media attention than genuine box-office stars.
Lindsay Lohan arrives for the premiere of Scary Movie 5 in 2013. Picture: Michael Buckner/Getty Images
Lindsay posed for Playboy in 2012, enjoyed a lesbian relationship with DJ Samantha Ronson and allegedly slept with nearly 40 famous men, named in a leaked "Sex List", supposedly written by herself, which featured England rugby star Danny Cipriani and actor Heath Ledger. And her movie career bombed after she starred in various flops amid claims of diva-like behaviour, unreliability and outrageous demands.
But thankfully, cutting ties with her hangers-on, getting clean and moving to the Middle East seems to have finally given her a second stab at a career after numerous failed comebacks.
And she's even now contemplating motherhood.
Detailing her plans to set up a children's charity in Dubai, Lindsay revealed she has an urge to adopt "a little blond Russian boy".
Fitting, given the amount of vodka she used to put away.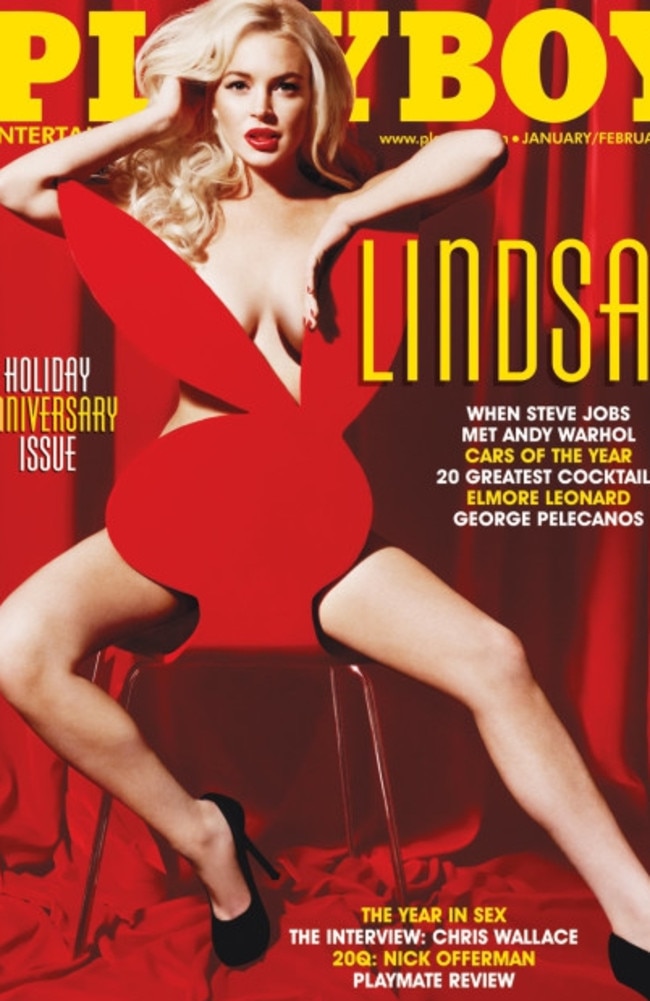 Lindsay Lohan on the cover of Playboy magazine, January/February 2012. Picture: Playboy
THE HIGHS AND LOWS OF LINDSAY LOHAN
April 2006: Shocks young fans at the Nickelodeon Kids' Choice Awards by bouncing on stage to pick up a Favourite Movie actor award in a short dress with apparently nothing underneath.
July 2006: Is so badly behaved on the set of film Georgia Rule that producer James G. Robinson issues a statement: "You've acted like a spoiled child, alienated many of your co-workers and endangered the quality of this picture."
Jan 2007: Checks into rehab for the first time but during her 30-day stay continues to film I Know Who Killed Me. She has three separate spells in rehab in 2007, one sparked by a driving under the influence (DUI) charge and possession of cocaine.
Feb 2007: Romcom Just My Luck gains her the first of many Razzie Worst actor nominations.
2007-2012: In court 20 times for DUIs, grand theft and violating her probation. Spends two weeks in jail.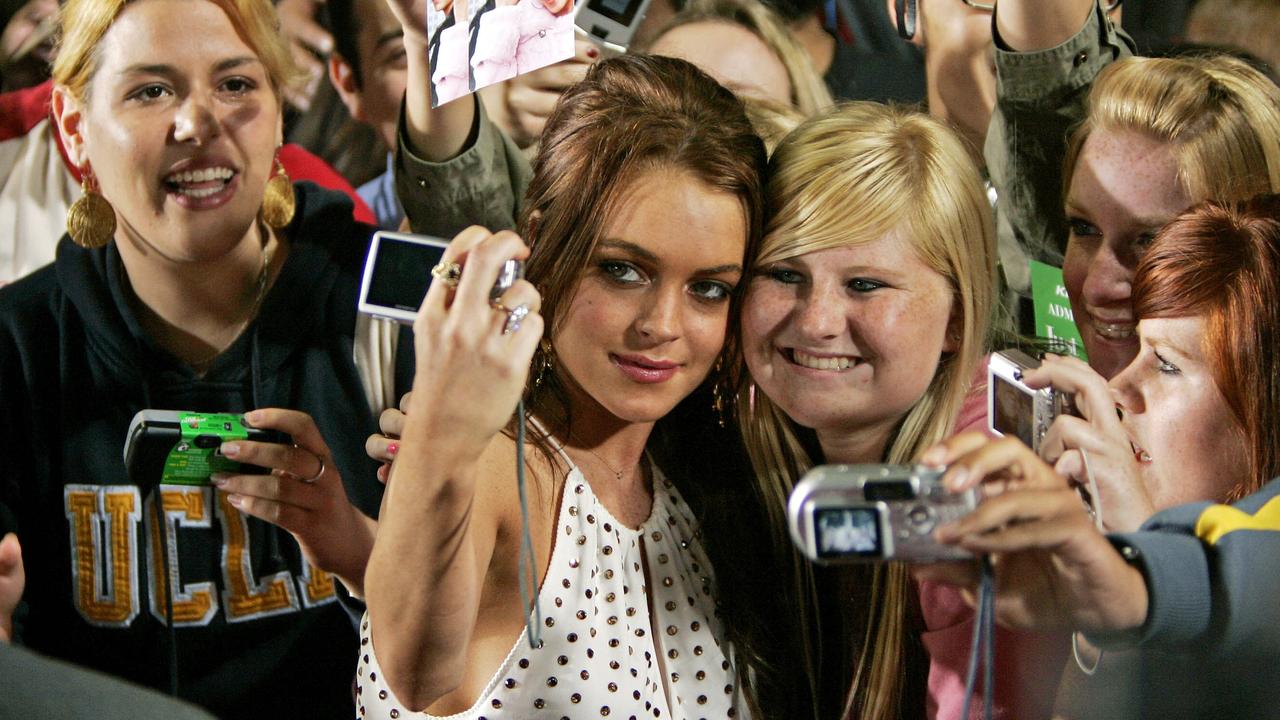 Lindsay Lohan at the premiere of Just My Luck in 2006. Picture: AP PicKevork/Djansezian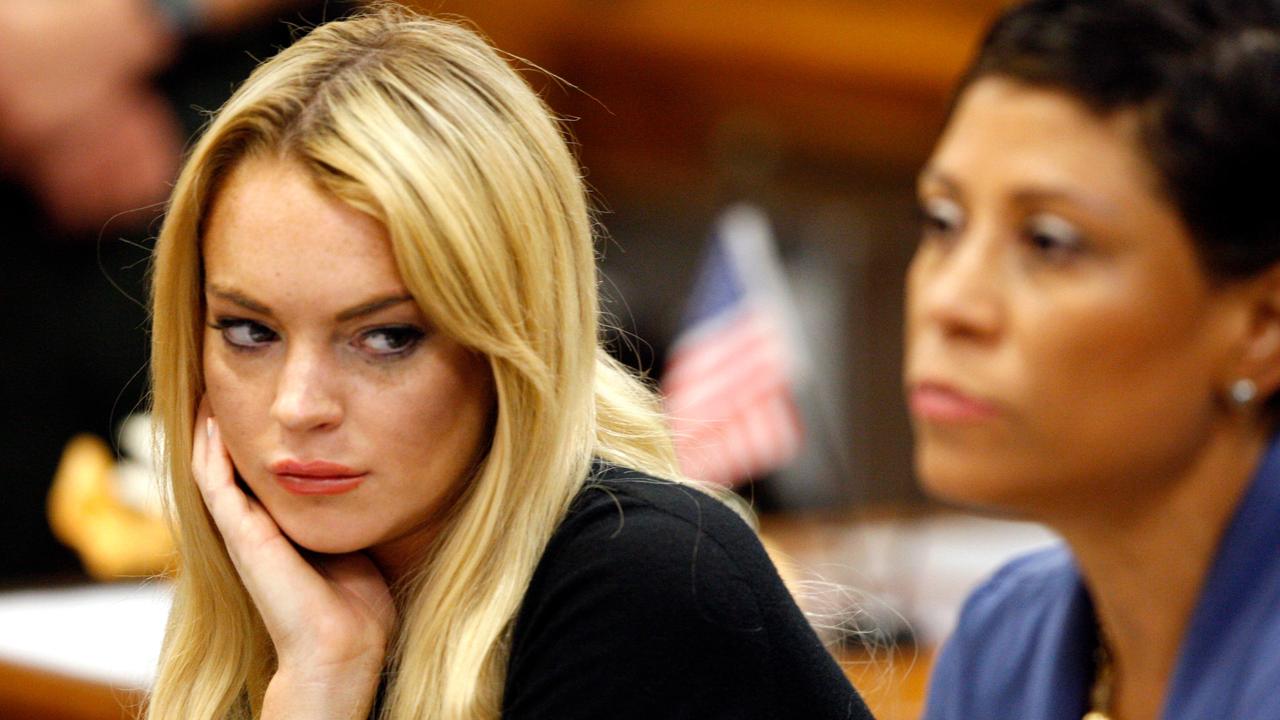 Lindsay Lohan and her lawyer Shawn Chapman Holley during court proceedings in 2010. Picture: EPA/DAVID MCNEW / POOL
2008-March 2009: Finds love with DJ Samantha Ronson.
June-July 2012: After another rehab stint, takes up residence in the Chateau Marmont hotel, a celeb fave, staying 47 days and racking up a $63,000 bill. She is eventually asked to leave.
Aug 2013: Botched comeback in The Canyons. Stars in the movie for $138 a day and films a four-way sex scene with three porn stars.
Oct 2015: Announces she may have a shot at the presidency, Instagramming: "In #2020 I may run. Through ups and downs #YESWECAN lets do this."
Jan 2016: Accused of being racist to a New York barman — then allegedly spits at a customer who steps in.