More than 15 years ago, a video was uploaded to YouTube that put the spotlight on some of the most hardened criminals in the world.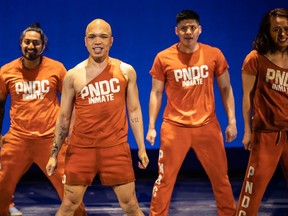 The musical, Prison Dancer, tells the story of one of the earliest viral videos, featuring the inmates of a Filipino prison dancing to Michael Jackson. PHOTO BY NANC PRICE
More than 15 years ago, a video was uploaded to YouTube that put the spotlight on some of the most hardened criminals in the world.
In it, hundreds of inmates from a maximum-security facility in the city of Cebu, Philippines perform a choreographed dance routine to the Michael Jackson hit, Thriller, complete with a cast of zombies and a frightened female figure played by a prisoner in drag.
Article content
The sheer scope of it – a synchronized sea of men in orange prison garb dancing to one of the biggest hits in the history of pop music – made it into one of the world's earliest viral videos, at its peak racking up hundreds of thousands of views per day.
Now there's a new Canadian musical about the origins of that video. Created by Filipino Canadians Romeo Candido and Carmen De Jesus, and directed by Nina Lee Aquino – artistic director of English theatre at the National Arts Centre – it premiered at Edmonton's Citadel Theatre earlier this year, where it earned a raft of awards, and is warming up for a run at the NAC Nov. 23 to Dec. 2.
In this interview, edited for length, Aquino discusses the development of the play, its cultural significance amid an uptick of Filipino-centred theatre and the message that will resonate with audiences of all stripes.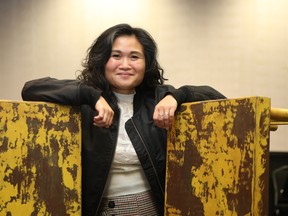 Nina Lee Acquino, director of Prison Dancer (and artistic director of NAC English Theatre). PHOTO BY JEAN LEVAC /ostmedia
Q: When did Prison Dancer come to your attention?
A: I know Romeo and Carmen had been working on this for quite some time, but the first test of it was probably during our new play development festival when I was artistic director of fu-GEN (the Asian Canadian theatre company she founded in Toronto). I was able to support it financially then. But because it's a musical, it's big and epic and it takes a while to go to the next development milestone. And, of course, the pandemic happened and Carmen and Romeo pivoted the piece (to become) a web series and a short film. When the Citadel finally took it under its wings, they were able to refocus the piece to its original origins as a musical. That's when it became real and I came in as the director.
Article content
Q: Do you recall seeing the original video?
A: Absolutely. Like all Filipinos. There was a point when the whole world was fascinated; the world was watching. But then we became even more exotified and people were laughing at us as opposed to laughing with us – and so that craving to shed a light on these people who are real hardened criminals, and that they have a dancing rehabilitation program, really piqued Romeo and Carmen's interest.
Q: Tell me about the cultural significance of the show.
A: It's coming out at a time when there's a lot of Filipino-American theatre. It's a renaissance. Here Lies Love (the first Broadway show with an all-Filipino cast) opened this year, and there are other musicals coming out in different parts of the States. So Prison Dancer is repping Canada in many ways. It's the first fully realized Filipino-Canadian musical.
Q: Any theories as to why this renaissance is happening now?
A: It's part of a movement towards putting on pieces, especially in big regional theatres, to actually make sure the stages are telling stories of all kinds of Canadians. It's the same effort here at the NAC. One Filipino musical is not going to make the Filipinos go to the theatre all of a sudden. But if we want to deepen and enrich the landscape of our audiences, for all disciplines, we need to start consistently programming works that illuminate the different facets of the Canadian experience.
Article content
Q: What do you hope audiences will get from it?
A: It is about finding hope in the most unexpected of places, a correctional facility, a place where the prisoners are in limbo. They're waiting for their sentences, and they don't know whether they are coming or going. What I love about it is that music and dancing and art basically saves their lives, gives them a renewed sense of living. The dance program was used to get them to focus on art rather than drugs or despair or sadness or loneliness or isolation. It's also a form of discipline and rigor, as artists know well. So I'm hoping audiences can be inspired by that. These prisoners were dealt the worst of the worst and they still found joy.