"I think for all those who were so negative about the weekend, saying it was all about show blah blah blah, I think Vegas proved them wrong," says Lewis Hamilton; Max Verstappen had been outspoken in criticism of the new race on the Strip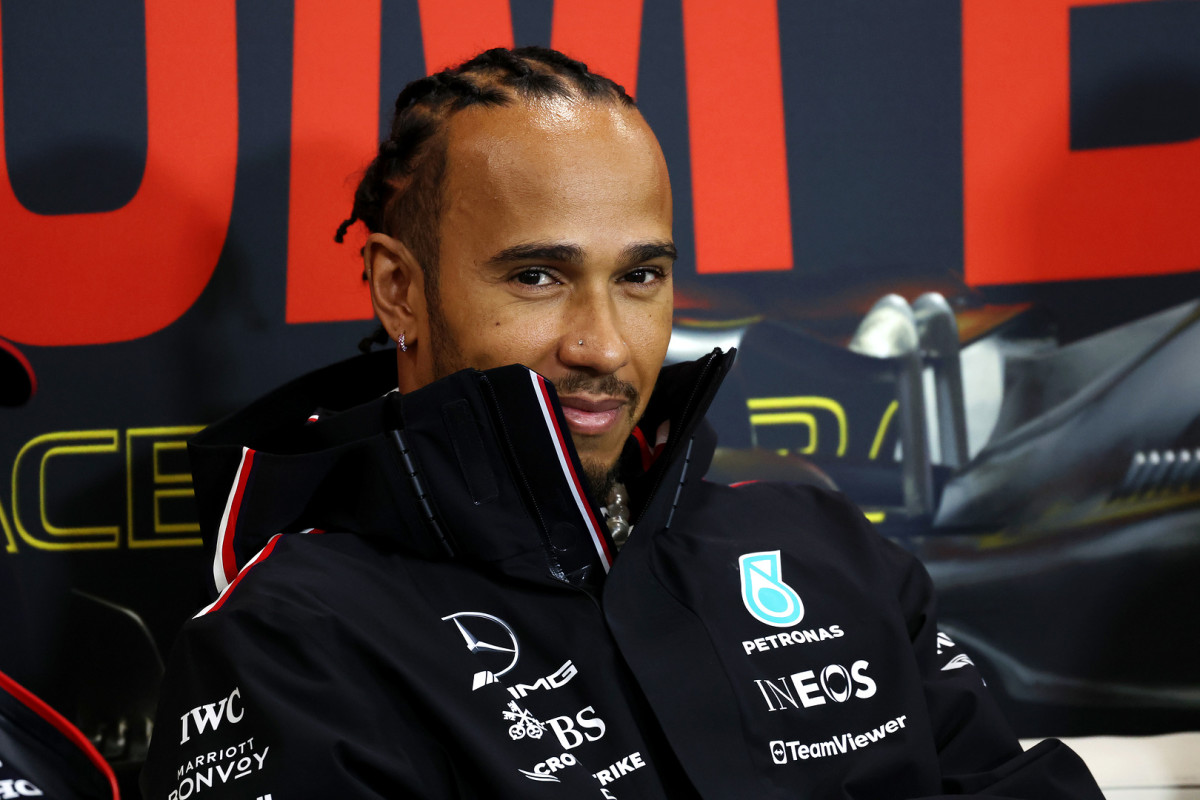 Lewis Hamilton believes the action-packed Las Vegas Grand Prix showed that critics of F1's big new event on the Strip – which notably included world champion Max Verstappen – were "wrong" to suggest it was all about "show" over substance.
Speaking to Sky Sports F1, Hamilton, who fought back to finish seventh after an incident-filled 50 laps in his Mercedes, said: "I'm really, really happy to have had a positive race and I'm really grateful the race was so good.
"I don't know how it was as a spectacle for people to watch, but there was so much overtaking.
"It was like Baku – but better. I really wasn't expecting the track to be so great but the more and more laps you did I just really loved racing it.
"Lots of great overtaking opportunities and I think for all those who were so negative about the weekend, saying it was all about show blah blah blah, I think Vegas proved them wrong."
Returning to Las Vegas for the first time in 40 years in an event promoted by F1 itself and racing on a new street track featuring the world-famous Strip, proceedings began with an unimpressed Verstappen criticising the star-studded opening ceremony, and the role he had to play in it. He also labelled the event "99 per cent show and one per cent sport".
Running on the track then got off to a inauspicious start on Friday as the first practice session was cancelled after just eight minutes when a loose water valve cover was sucked up and pierced a hole in Carlos Sainz's Ferrari at high speed.
With organisers forced to check all drains around the 3.8-mile circuit and carry out remedial work, it was another five hours before Practice Two eventually started at 2.30am local time.
But an hour before that ticket holders had been told to leave the grandstands and fan areas due to staffing issues over how long various workers could remain on duty.
In a media session after opening practice had been cancelled, Mercedes boss Toto Wolf had hit out at suggestions that the issues with the drain covers were set to overshadow the event and damage F1's reputation in America.
Reflecting on the week as a whole after the end of Sunday's race, Wolff said: "That was an awesome weekend.
"The drain cover was nothing, like I said. When you look back tonight, Sunday: spectacular race, great audiences, mega event. I think some good racing at the front. That's what I will remember. An inaugural Las Vegas race that ticked all the boxes."
Asked about the fact that fans on site still missed the delayed second session, Wolff added: "[Practice day] was so difficult anyway with the drain cover coming loose that the driving from 2.30am to 4am [was] also to see whether everything was fine for the following day. I think it was unforeseen circumstances and you can't make people work here on track that late.
"For next year maybe we can create some kind of buffer [in the schedule] but it was unforeseen circumstances. Now, often communication can do a lot to make the situation better. I hope for the people who ended up upset, for the right reasons we can find a good package for next year so they can enjoy the race and, in a way, maybe we can pay them back for the unfortunate situation."
Verstappen: It was a fun race
Verstappen had elaborated on his reasons for not liking the nature of the event after qualifying.
While he derided the track itself as more "National League" – the fifth tier of English football – compared with Monaco's "Champions League" street circuit – he said he accepted that "a kind of show element is important" at F1 events. However, he said he did not feel Vegas and the special events around the weekend to attract fans carried the same "emotion of the sport" as at traditional tracks.
One day on and Verstappen was celebrating a record-extending 18th win of the season after overcoming a time penalty and a collision with George Russell to beat Ferrari's Charles Leclerc to victory by just two seconds.
He sung along to Elvis' 'Viva Las Vegas' when it was played over Red Bull team radio on his slow-down lap back to the pits at the end of the race.
Subsequently asked in the post-race press conference if he stood by his critical comments of the event, Verstappen said: "Well, I always expected it to be a good race.
"That has never been my issue. But today was fun, that's the only thing I want to say about it. I hope everyone enjoyed it. Christian [Horner] put me on the spot [with the song] so I cannot leave him hanging – I have to sing! But I definitely need some lessons."
Verstappen also told Sky Sports F1: "I think today the race was good, yeah.
"Of course, it helps when you have a track with a lot of straights. There is a lot slipstreaming going on and of course the DRS effect seemed quite powerful out there.
"Plus low deg on the hard tyres so everyone could push quite hard, so it made it a fun race for sure."