The legendary Tiger Woods has returned, but the future of the "Woods family" is also promising…
Tiger Woods appears on the green again. At the PNC Championship, where mainly jokes bring joy and laughter rather than prizes, with his son Charlie Woods, Tiger marked his return to the golf world…
The story of the accident that caused Tiger to almost lose his right leg in February this year has receded into the past, and he feels better every time he opens his eyes and wakes up. Fans hope that one day the 45-year-old legend will return to top competitions.
At the Ritz-Carlton Golf Club, Tiger and Charlie made a strong impression by having 11 consecutive holes with birdies (from 7 to 17) to join home team John Daly in the lead. Not winning the final championship, fans couldn't take their eyes off the actions of the "Woods Family".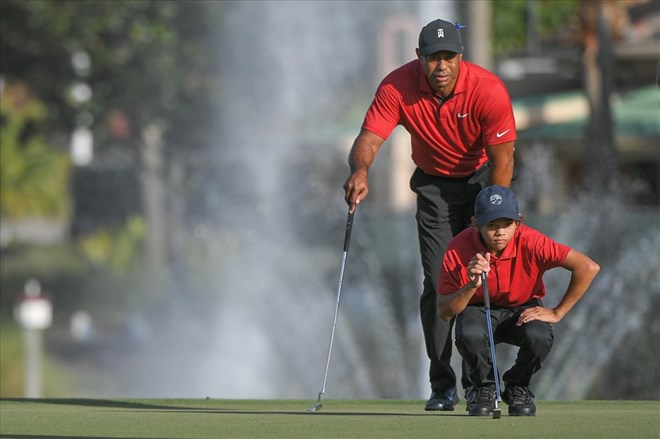 Tiger Woods and his son Charlie Woods competed together for the first time at the PNC Championship event. Photo: Golf Digest
In a truly forgettable year for Tiger because of the accident, he only competed in 2 or 3 tournaments, so the last 3 days of competition were really a challenge. Until Sunday (December 19), many reviews found that the signs of his return were clearer, with his hitting speed, ability to control his shot, and no more mistakes.
Justin Thomas, a golfer playing with Tiger on Saturday, was very impressed and said that the true image of a Tiger at his peak appeared there. Writing in Golf Digest, writer Dan Rapaport wrote: "With everything that made up the Woods era in golf, his strongest point has always been his grit. 5 knee surgeries, 5 back surgeries and a horrible car accident, seemingly had no impact. He looked comfortable sending the ball in a variety of ways, Woods' trademark shots. There were a lot of Tiger shots during the week. More than anyone expected."
With so much praise, if the recent tournament proved anything, it's that Tiger still can't leave this sport. Experts say that for a man who has lived a complicated life in the public eye, his biggest challenge moving forward is, ironically, simple: walking.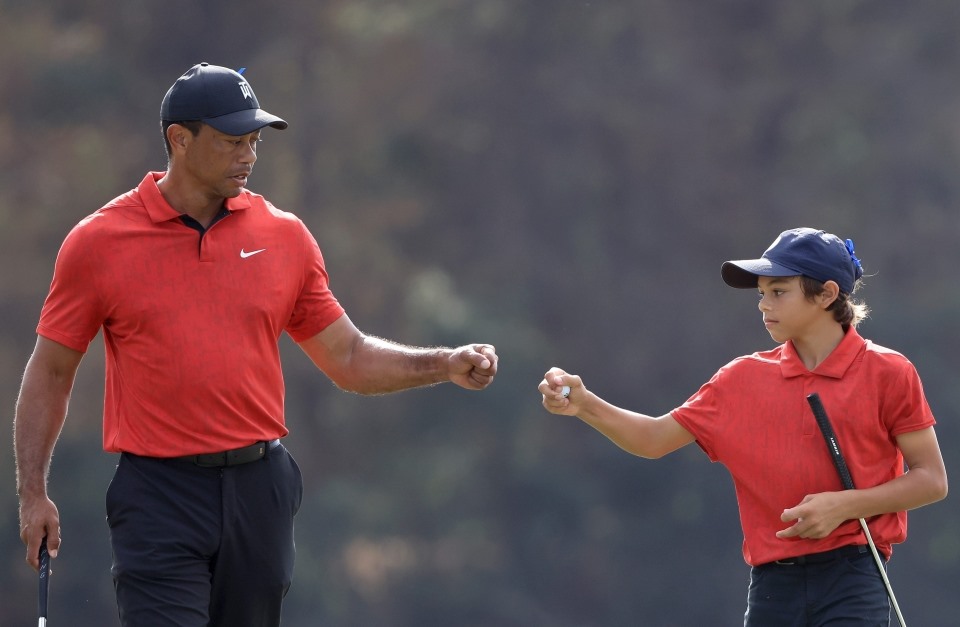 His son Charlie shows his qualities and potential through his shots and movements identical to his legendary father. Photo: Golf Digest
The question is whether he can go 18 holes in 5 consecutive days? Because, as his caddy Joe LaCava says, it takes intense practice, training not just to face opponents like John Rahm, Rory McIlroy and powerful shots on rough grass. .
"No… I'm not at that level. I can't compete against them at this stage," Tiger said, "It will take a lot of work to get to a place where I feel I can compete with these guys and at a high level."
And indeed, Tiger showed signs of fatigue in the afternoon. Although the pain is still under control, it is clear that it will not be possible to immediately have a Tiger ready for top events.
A few more months, or even a year, if Tiger still has the will to return. But in the meantime, experts may be more concerned about Charlie. The 12-year-old boy of the "Woods Family" leaves behind interesting marks.
The shots identical to his father, the celebratory movements, the iron putts or even the way of composing and expressing actions in stressful times confirm a great potential for the future.