Jennifer Lawrence's beach fight scene in No Hard Feelings is still shocking people four months later, which is kind of great.
This article contains NO HARD FEELINGS spoilers.
According to Jennifer Lawrence, she had zero intention of making No Hard Feelings or any other film when the script landed on her desk. Having gone through filming Don't Look Up during the pandemic and recently giving birth to her son, the Oscar-winner was ready to take a rest. But that was before she read a screenplay by Gene Stupnitsky and John Phillips so deliriously funny she couldn't say no.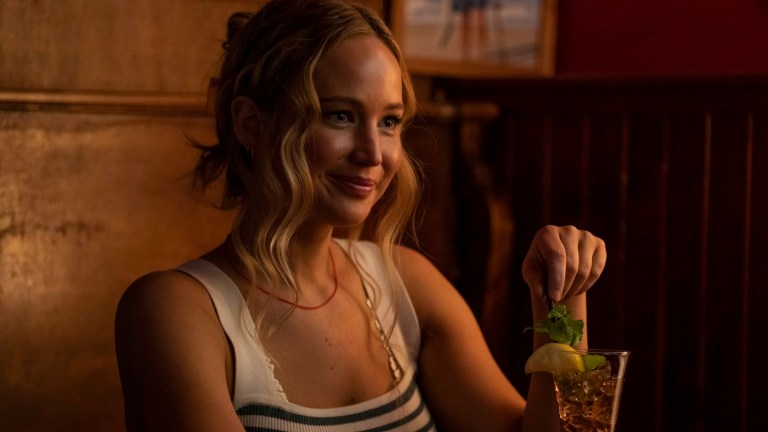 Photo: Sony Pictures
A little over a year and a half later, that appeal is still shocking audiences as the exceedingly R-rated and raunchy comedy finds its second life on streaming via Netflix. And at least per the anecdotal reaction my social media feed showed over the weekend, the film's already most infamous scene is still having the desired effect of getting tongues wagging—and hopefully laughing.
You know the scene. During a midnight rendezvous on a seaside beach, Lawrence's Maddie Barker attempts to seduce the exceedingly shy teenager Percy Becker (Andrew Barth Feldman) to go skinny dipping with her in the water. The setup of the sequence is a reminder unto itself of how happily tasteless the film's premise is: As a car-less Uber driver in danger of losing her house, Maddie agrees to a Craigslist ad posted by Percy's parents, which asks her to "date" their son in exchange for a new car. Yet there is dating, and there is dating, and despite looking like Jennifer Lawrence, Maddie struggles to bring Percy out of his shell…. and that's before some dumb kids wander onto the beach to steal Maddie and Percy's clothes as a prank.
What follows is a scene that Lawrence's agent apparently attempted to talk her out of doing, with Maddie going into total Jason Voorhees mode by storming out of the water, walking with a relentless measured gait across the sand, and finally, as naked as the day she was born, beating the shit out of some dumb kids. With the same physicality that made Katniss Everdeen the hero to millions of children, Lawrence boldly performs an action sequence in her birthday suit which involves hitting both men and women in impolite places.
"Everyone in my life and my team is doing the right thing and going, 'Are you sure? Are you sure? Are you sure?'" Lawrence told Variety in June while discussing why she agreed to do that scene exactly as written. "I didn't even have a second thought. It was hilarious to me." According to the star, the sequence still involved "a lot of rehearsal" and was reportedly filmed on a closed set with intimacy coordinators. Even so, the scene is still difficult to entirely wrap one's mind around: Jennifer Lawrence, Oscar-winner and star of the beloved Hunger Games movies, did full frontal nudity and not as a bid for artistic credibility by way of another award-friendly festival darling, or in order to make a political statement. She did it as a gag where her character goes T-1000 on some doofuses.
In its own twisted way, this suggests a different kind of artistic credibility too. Lawrence is someone who's publicly stated more than once she wanted to do a comedy that matches her blunt public persona, and when she finally did, she defied all conventional wisdom within the industry and even her "team"—and the result was, indeed, the funniest scene of No Hard Feelings.
This is anathema to how movie star images have been cultivated either "back in the day" or right now. Nudity has obviously always been a taboo, particularly for female thespians who historically have been held to a different standard than men. Nonetheless, female nudity has remained ubiquitous throughout the history of cinema, a medium dominated and controlled by men behind the camera and in the studio's boardrooms; and the actresses who played that game have long risked being put into a limiting box by the same industry which urged them in this direction. While that double standard has slowly begun changing in recent years, the conventional thinking around how best to build movie stardom in the 21st century has arguably gotten even more conservative. Today, to reach a level of fame that might one day give you the ability to choose your own projects, you're encouraged to appear in franchise films that appeal to everyone.
The actors who (arguably) became movie stars in the 2010s mostly did so by playing beloved characters from pre-existing intellectual property (or "IP"). Chris Evans, Chris Hemsworth, and Chris Pratt joined the pantheon of "Hollywood Chrises" by each portraying a superhero in a Marvel movie; Robert Pattinson got half-a-dozen intriguing indies financed because he was Edward Cullen to a generation of moviegoers; and arguably there was no bigger "It Girl" of the last decade than Katniss Everdeen herself, with Lawrence leading The Hunger Games in the same year she won an Oscar for Silver Linings Playbook. The next year, The Hunger Games: Catching Fire grossed $865 million worldwide, and Lawrence got another Oscar nod for American Hustle.
The critical awareness of her talent goes back to 2010's Winter's Bone, which announced her out of Sundance as one of the most compelling screen presences of her generation. But Katniss is what made her a star whose marquee name got a movie about the inventor of a map financed. She appealed to everyone.
And yet, the appeal of No Hard Feelings is the movie clearly will not appeal to everyone. In fact, the film in some ways feels perfectly timed, given its subject matter about a thirtysomething millennial discovering she's out of her depth when trying to hang with Zoomers, because as per a UCLA study published last week, virtually half of Generation Z audiences between the ages of 13 and 24 think any sex or nude scene is "unnecessary" in film and television while 44.3 percent of younger viewers reported "romance in media is overused."
This ironically might explain some of the reasons No Hard Feelings didn't find as big an audience as the R-rated raunchy comedies of 10 or 15 years ago. The film grossed only $87 million worldwide, underlining the risk of not making a wide release film that appeals to everyone. But it also speaks to how gutsy and gleefully iconoclastic Lawrence was to do that No Hard Feelings beach scene. It is a real creative (and commercial) risk to knowingly turn off a segment of moviegoers, including a segment of moviegoers who grew up loving watching you as Katniss or even Mystique in the X-Men movies.
In this kind of media climate, it's refreshing to see something so nakedly transgressive.