Cardi B chucked the microphone at a woman at Drai's Beachclub after she had some liquid thrown at her. Read on!
The microphone that Cardi B threw at a Las Vegas concertgoer has been sold for $99,900.
The 'Bodak Yellow' hitmaker chucked the microphone at a woman at Drai's Beachclub after she had some liquid thrown at her, and Cardi's mic has now been sold on eBay for an eye-watering sum of money.
Scott Fisher – whose company, the Wave, provided audio support for the gig – initially listed the item for $500.
He told the New York Post newspaper's Page Six column: "I think it a bit crazy but to each their own.
"To some people, it's a world-famous item, and there are definitely collectors that like this kind of stuff."
Cardi B, 30, was listed as a battery suspect following the incident in Las Vegas.
However, the police ultimately determined that she did not commit a crime.
In a statement, the Las Vegas Metropolitan Police Department said: "After a thorough review of this case and with the consultation from the Clark County District Attorney's Office, this case has been closed as having insufficient evidence. No charges will be filed in relation to this case."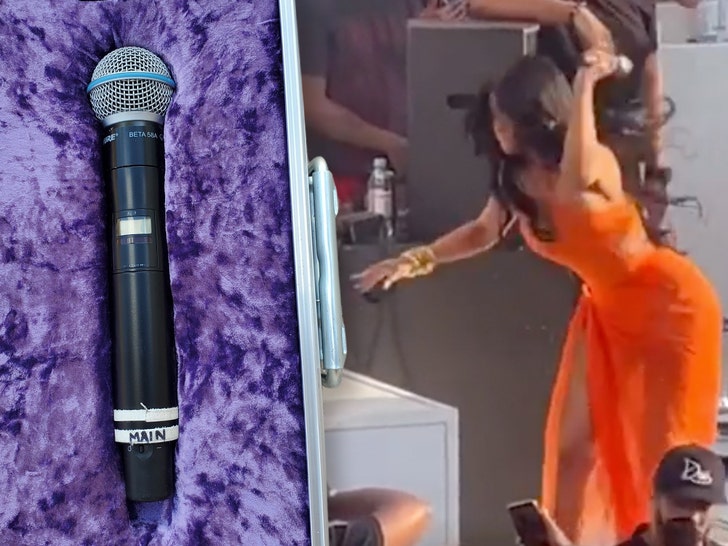 Meanwhile, Scott previously revealed that the auction will help to raise money for charity.
He wrote on the listing: "I was encouraged to sell the mic but decided I would try to do something good. One hundred per cent of the profit from the sale of this mic will be evenly split among two charities. The first charity is a local Las Vegas charity called Friendship Circle Las Vegas. The friendship circle is an organization that has teens and young adults volunteers helping children, teens and other young adults with special needs.
"The 2nd charity is Wounded Warrior Project. Wounded Warrior project helps to bring independence back to our most severely wounded veterans. While I did not serve, my father served in the USAF, and my son-in-law served in the USMC…
"If you want a piece of hip hop infamy and what has now become national and world news then please bid whatever you are willing to spend….thanks (sic)".