Fresh off a bye week, the Kansas City Chiefs (7-2) are gearing up for their Monday Night Football showdown against the Philadelphia Eagles (8-1).
Chiefs quarterback Patrick Mahomes is looking to get the offense back on track ahead of the Super Bowl LVII rematch. During Kansas City's 21-14 win over the Miami Dolphins in Week 9, Mahomes threw for under 200 yards for the first time this season. The offense didn't score one point in the second half.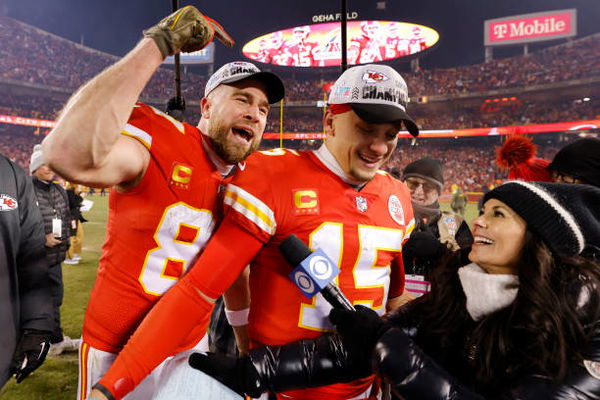 However, it's not just that one game. The Chiefs have committed 17 turnovers this season. Mahomes often doesn't appear to be on the same page with his receivers. Chiefs tight end Travis Kelce leads the offense with just 57 receptions for 597 yards and four touchdowns. In second, rookie Rashee Rice with 32 catches for 378 yards and four touchdowns.
Speaking to reporters on Thursday, November 16, Mahomes addressed the lack of production from his receivers. "Obviously everybody wants the receivers to blow up and everything like that, but I think guys have gotten better as the season's gone on and they'll continue to get better," Mahomes said.
"We're making strides in the right direction, and I think we'll keep doing that as the season goes and hopefully carry that momentum into the playoffs."
Mahomes, who watched a lot of tape during the bye, said they're not trying to make "big, huge changes" before facing the Eagles. "You just go back to the fundamentals and try to execute even better."
The Chiefs offense isn't bad, but the bar is extremely high for a squad led by the two-time Super Bowl MVP. As for the committee approach, Mahomes sounded confident things will only improve. "I've always felt like throughout the season, the chemistry gets better and better," he said.