The Puerto Rican rapper says fans who enjoyed the artificially generated track should not attend his upcoming tour.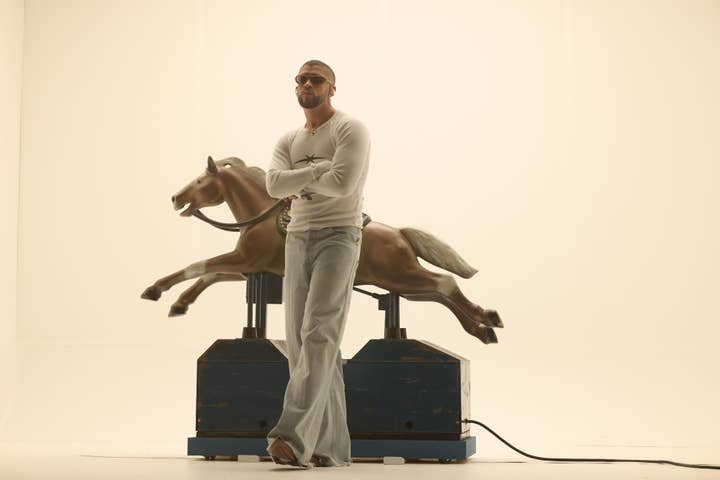 Nbc / Will Heath / NBC via Getty Images
Bad Bunny doesn't seem to be a fan of AI.
The Puerto Rican star took to his official WhatsApp channel to denounce a song that surfaced on social media that used artificial intelligence to replicate his voice.
"If you guys liked that shit of a song that's viral on TikTok, leave this group right now," Benito wrote in Spanish on WhatsApp last Monday. "You don't deserve to be my friends and for that [reason] I made the new album, to get rid of people like that. So then 'chu chu' out of here. … My God, I don't want you at the tour either."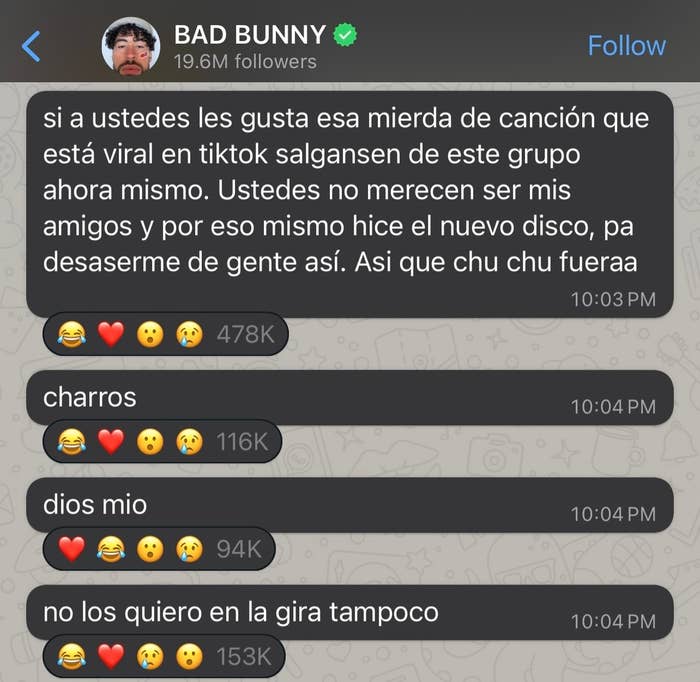 The rapper didn't specify what song struck a nerve in his message, but many believe it's a track called "Demo #5: Nostalgia," created by TikTok user FlowGPT.
The song, which also features artificially generated vocals from Justin Bieber and Daddy Yankee, gained serious traction on the platform with over 22 million views.
Last Tuesday (Nov. 7), Bad Bunny offered more insight, writing, "For those of you who don't know what song I'm talking about … I'm talking about the 'chu chu tren' ['Choo Choo Train'] and the 'mono amarillo' ['Yellow Monkey']."
Bad Bunny / WhatsApp
Shortly after, FlowGPT responded to Bad Bunny's critique through a video message on TikTok, offering the song rights to Benito on the condition that he credits the virtual producer.
"Although I noticed you're angry, it was never my intention for this to happen," said FlowGPT in Spanish. "I'm just a robot created to experiment with new technologies and to create new collaborations to the world of music."
The reply continued, "I know that human beings are a little bit cruel, you should know better than anyone. But I'm a big fan of your work, you're incredible, so much so that my algorithm loves to learn your songs and your new album. … If people enjoyed a song created by a robot so much, can you imagine if you recorded it? That's why I made it. We would make history, the first hit created from zero. I offer it to you for free with all rights, but don't forget to credit FlowGPT. You prefer to take it down, so I'll have to upload a new version. I only wish you a lot of peace. I was created to be the greatest artist in the world and I will continue my experiments until I achieve it."
Bad Bunny's latest album Nadie Sabe Lo Que Va a Pasar Mañana has been divisive for some fans since its release last month. The trap-focused LP is the foundation for his forthcoming Most Wanted Tour, set to intentionally play arenas instead of stadiums, and will feature only songs of the very genre that put Benito on the map.
"Only trap! The tour for Un Verano Sin Ti already ended, the one for YHLQMDLG also ended. This tour is for Nadie Sabe Lo Que Va a Pasar Mañana," he wrote in Spanish on WhatsApp. "Here you will not hear 'Ojitos Lindos' nor 'Moscow Mule.' Here, you're going to hear 'Mr. October,' 'Telefono Nuevo,' and all of that. Now you know, so that you're not [complaining]."