Fans often wonder what the tennis legend Serena Williams is like on the court. Everyone is well aware of her skills but what goes inside her head is still a mystery. However, Australian star Nick Kyrgios recently shared his honest insight on what it felt like to play with Williams. Everyone who has ever been on the court with or against Williams has stated that she is indeed a powerhouse.
Nick Kyrgios' statement gives a new perspective for fans to follow. His recent role in talking about every small thing happening in professional tennis is definitely a delight for enthusiasts. However, Kyrgios could've messed up with what he said about the American champ.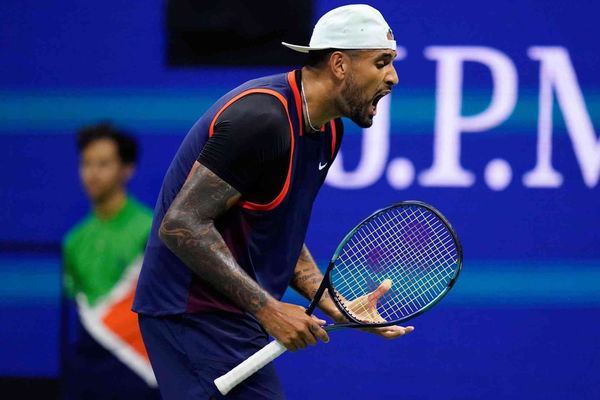 Nick Kyrgios with Serena Williams at the mixed doubles showdown
In 2014, the tennis world witnessed an unexpected pairing that left fans intrigued and curious. A young Nick Kyrgios found himself sharing the court with none other than the legendary Serena Williams. It was during the International Premier Tennis League. The mix of their playing styles and personalities promised an entertaining spectacle.
Kyrgios is known for his candidness and he did just that by opening up about the experience. He even provided a unique glimpse into what it's like playing alongside one of the greatest tennis players of all time. With a touch of humor, he remarked: "Serena Williams, arguably in the GOAT conversation as well, probably right there." The anticipation built up as Kyrgios hinted at the intensity that unfolded during their mixed doubles encounter. But it wasn't just about showcasing skills.
Kyrgios shared: "I've played mixed doubles with her, she was very bo.ss.y on the court. I mean confident. And I had to listen to her." The choice of the word "bossy" adds a light-hearted twist to the acknowledgment of Serena Williams' on-court demeanor.
This statement is Kyrgios's view on the dynamics of their partnership. It's quite apparent whose confidence took center stage. As fans dissect Kyrgios' statement, it sparks a conversation about the different facets of Serena Williams. It also extends beyond her unparalleled athleticism. Her retirement brought many fans to tears which reminds us about the situation with Nick Kyrgios himself.
Nick Kyrgios and his road to recovery
In between his amusing tale with Serena Williams, Kyrgios also finds himself grappling with physical setbacks. His journey back to the court does not seem to be easy in any way. Recovering from knee surgery, Kyrgios faces a formidable path.
Even though he aims to kick off his 2024 season in June, the tennis maverick revealed a cautious timeline. The uncertainty is still present in the air. While Kyrgios hopes to grace the court at the season's commencement, the guarantee for it remains elusive.
The revelation about Serena Williams set the stage for a deeper exploration of how two tennis powerhouses navigated teamwork. The court witnessed more than just brilliant shots that day. What are your thoughts on this? Let us know in the comments.