(Sports news, tennis news) Djokovic played very well in the encounter with Sinner but he still suffered defeat.
Since losing to Carlos Alcaraz at the 2023 Wimbledon final, Novak Djokovic is undefeated with 19 consecutive wins. Defeating Nole seemed "mission impossible" to the rest, but Jannik Sinner found a way to overcome the world No. 1 player at ATP Finals 2023.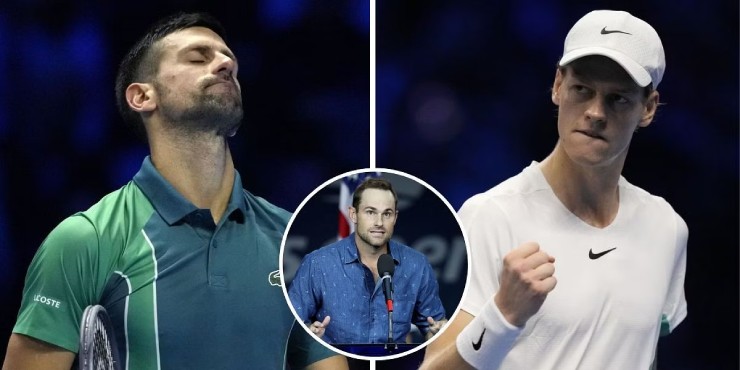 Roddick (middle) was surprised because it was rare for Djokovic (left) to play well but still lose the match
In their first meeting on the hard court, Sinner threw strong shots combined with small shots that forced Nole to the net, before launching passing shots to score. Besides, the 22-year-old tennis player's victory over Djokovic on November 14 was thanks to his highly stable serves.
The court surface made the ball travel extremely fast, both players had difficulty breaking their opponent's serve game. Sinner successfully took advantage of 2/3 opportunities, Nole only succeeded once.
The 7-5, 6-7(5), 7-6(2) victory in an exciting battle that lasted 3 hours and 9 minutes marked Sinner's remarkable maturity, but Nole played no less. After the match, the Serbian player also admitted that he was "satisfied" with the performance of this match.
Former American world No. 1 Andy Roddick affirmed that Djokovic played well, and that it is very rare for a Serbian tennis player to lose in this case.
Roddick told Tennis Channel: "Novak played well today. It's rare for Djokovic to lose on a day when he plays well. Sinner showed his bravery at the right time, winning points at a crucial moment. He (Sinner) ) served well, moved well, and had great shots, thus limiting many of Djokovic's abilities, this was a very impressive victory."
The American legend considered this victory as a starting point for Sinner's success. Roddick said: "When the book about Sinner's career comes out, it will definitely talk about this match. This could be the match." His best ever, it serves as a stepping stone for the Italian tennis player to win a Grand Slam in the future."
Djokovic will meet Hubert Hurkacz and Sinner will face Holger Rune in the final match of the Green group qualifying round on November 16. To win tickets to the semi-finals, Djokovic needs to defeat Hurkacz.