Singer Justin Bieber has dropped a carousel of loved-up pictures with his wife Hailey Bieber via Instagram. However, the latest post comes amid the ongoing alleged drama brewing between Selena Gomez and Hailey Bieber and many have interpreted this as a dig at the Bad Liar singer.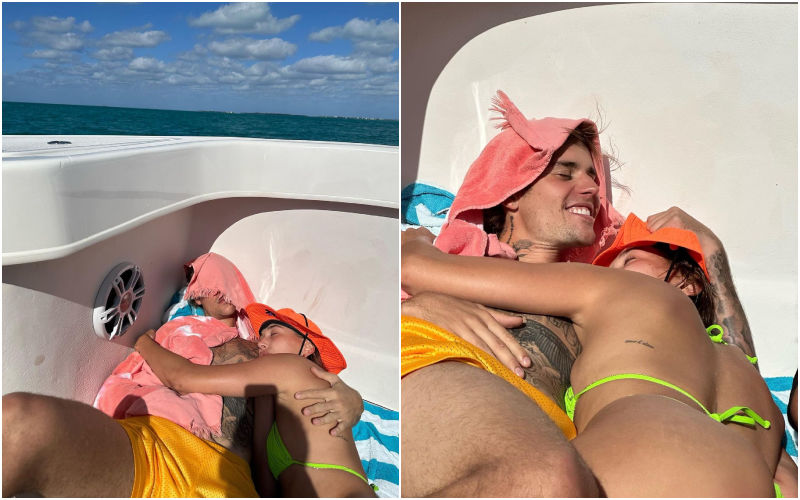 For those unaware, Justin and Selena dated for years and they were embroiled in an off relationship for a decade before he suddenly married Hailey. 
In a post on Sunday, Justin showered love over his wife Hailey Bieber and was seen holding her in his arms. The pop star's latest pictures appear to be from what looks like a romantic beach getaway. In the images, the couple can be seen wearing their bathing suits while napping in the sun in the corner of a boat.
One of the pictures featured Justin brightly smiling at Hailey as she leans into his chest while wearing a neon green bikini and he grabbed her bright orange bucket hat. In another, he's also been taken by slumber and has his salmon towel draped over his face. In the caption, the 29-year-old wrote, "LUV U BABY."
Shortly after he shared the post, the internet was left divided about them while one user wrote, "Haha they silenced the mouths of many", "She made u post this didn't she," claimed another one. Someone commented, "U cannot be serious Justin…." One more said, "Awww that fake smile. don't try so hard jus."

Hailey took to the comments section and posted the emoji of two hands forming a heart, indicating the feeling is mutual.
Many have dubbed the latest post as a dig at Gomez. The tensions between Hailey and Selena Gomez started brewing after the former said that the former threw shade at the Wolves singer.
It began with an Instagram Story with Hailey's friend Kylie Jenner after Selena posted some self-deprecating videos of herself on TikTok and Instagram Stories. She had commented on her face, "I laminated my brows too much." Later, Kylie Jenner posted a photo of herself with the caption "this was an accident???" over her brows. She went on to also shared a picture of her friend Hailey Bieber's brows.
Meanwhile, the Rhode founder has been on receiving end for past comments she made about Taylor Swift while cohosting the show 'Drop The Mic'. Swift is a close friend of Gomez's, and she commented on a clip of the moment on TikTok, writing, "So sorry, my best friend is and continues to be one of the best in the game."