Kevin Durant has been doing most of the heavy lifting for the Phoenix Suns in the absence of his co-stars, Bradley Beal and Devin Booker. KD is averaging 28 points and 7 rebounds so far this season in his attempt to keep the Suns afloat. Continuing his incredible form, Durant put up a season-high 41-point performance against the Detroit Pistons to get a much-needed win. The Suns are now 3-4 to start the season.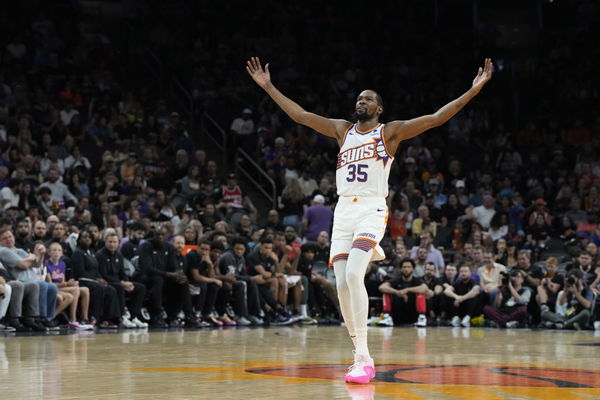 While two of the three Suns superstars are out due to injury, Kevin Durant revealed he was "grateful" for the Suns veteran, who has come out as the unsung hero for the team early in the season.
Kevin Durant is grateful for his veteran teammate
Kevin Durant is trying his best to keep the Suns in the winning column until Bradley Beal and Devin Booker return. In their absence, KD is getting a lot of support from his veteran teammate Eric Gordon, who has solved the point guard problem for the Suns. Gordon got his second consecutive start against the Detroit Pistons and proved his worth with an incredible performance. He put up a crucial 21 points, 8 assists, and 5 rebounds in the game. Gordon was the second-highest scorer for the Suns behind KD.
After KD's insane 41-point performance, he talked about Eric Gordon's contribution to the short-handed Suns' team, <em>"I am grateful for a veteran like EG that knows how to play, but also can go out there and give us some big scoring nights."</em> Eric Gordon has temporarily solved the Point Guard problem for the Suns by taking the responsibility of facilitating the offense for them. The experience he brings as a veteran has helped take some scoring load off KD's shoulders.
Can Kevin Durant keep the Suns afloat until his co-stars return?
The Phoenix Suns are one of the best teams in the NBA on paper. They have arguably the most lethal offensive trio in the league, with Kevin Durant, Bradley Beal, and Devin Booker. But the NBA world has yet to see the three superstars play together this season. Devin Booker has been out for most games due to ankle soreness, and Bradley Beal has not made his Suns debut because of back issues. The Suns are uncertain about the timeline of their two superstars' return to the court.
Meanwhile, Durant has started the season in great form and is trying to get some wins before his co-stars return. He is carrying the team on his back with some support from the Suns' second unit. KD has been working like a horse, but that can take a toll on the 35-year-old's health in the long run.
The Phoenix Suns fans are hoping for Bradley Beal and Devin Booker's quick return so that they can perform at full strength and make a run for the title.