Phoenix Suns veteran Kevin Durant may have almost 1,000 games worth of NBA experience, but he hasn't faced many players like the San Antonio Spurs' Victor Wembanyama.
"He different," Durant said on Friday's HooperVision broadcast on the NBA App. "He long, athletic, he mobile, he can shoot it, he got s𝓀𝒾𝓁𝓁s. He tough."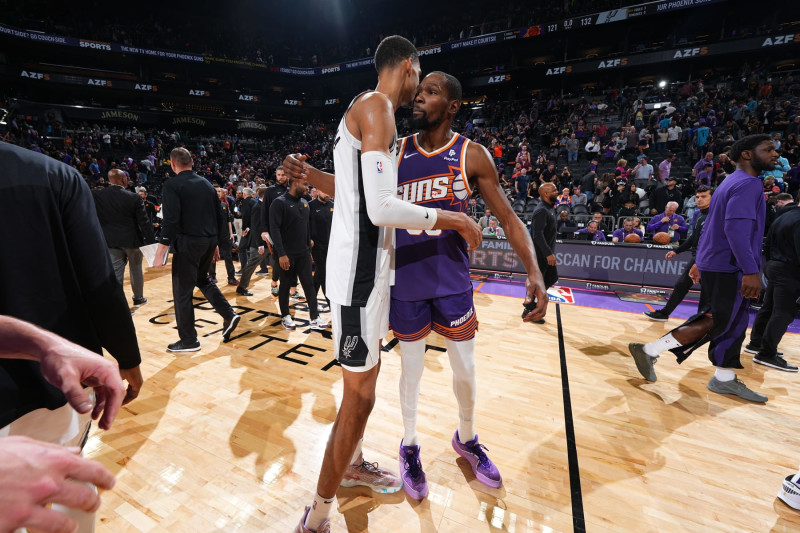 Durant saw Wembanyama put up 38 points and 10 rebounds Thursday in the Spurs' 132-121 triumph over the Suns.
"When he raised up and shot the ball, it's like, there's no way I'm gonna be close to this, so I'm just going to play hard and contest, because you're going to foul him or he's going to make the shot," Durant said. "He misses, it's all on him."
Thursday marked the Suns' second straight loss to the Spurs despite Durant putting up at least 26 points in each game.
It only took five NBA games for Wembanyama to make moves toward a series of franchise records. His 38 points in Thursday's victory over Durant and the Suns are tied for the third-most by any Spurs rookie, per ESPN Stats and Info.
KD talks his matchup vs. Wemby on #NBAHooperVision 🗣️

Tap in and watch on the NBA App: https://t.co/b57zSdz8rA pic.twitter.com/TlmOlHegY9

— NBA (@NBA) November 4, 2023
Wembanyama is also only the second rookie in San Antonio franchise history, following Hall of Famer David Robinson, to top 103 total points through the first five games of his rookie season.
After the loss, Durant shook off comparisons between himself and the rookie while praising Wembanyama.
"He's his own player, person. He gon' create his own lane, much different than anybody who's ever played."

Kevin Durant was asked about Victor Wembanyama comparisons to himself, and gave Wemby high praise: pic.twitter.com/0KmfiobDJc

— Gerald Bourguet (@GeraldBourguet) November 3, 2023
"He's his own player, person," Durant said, adding that Wembanyama will be "much different than anybody who's ever played."
Durant wasn't the only Suns veteran expressing awe of Wembanyama following Thursday's loss. Teammate Devin Booker called the Spurs rookie an "unbelievable talent" after the loss.