KD had nothing but praise for Alex Caruso.
It's not exactly "stopping" when an opponent drops 25 points. But when that opponent happens to be Kevin Durant, a 25-point performance on 7-of-16 shooting is about the best you can hope for. And for all intents and purposes, despite suffering a heartbreaking 116-115 loss to the Phoenix Suns on Wednesday night, Alex Caruso indeed gave it his all to contain the all-time great.
Plaudits for Caruso
Kevin Durant is almost a 7-footer who has made a career out of putting the ball in the basket. On the other hand, Caruso is an undrafted guard out of Texas A&M who has taken the long route to becoming not only relevant but also one of the best defenders in the NBA. On Wednesday, the two players collided in a must-see match-up.
Caruso scratched and clawed to keep KD away from his sweet spots, even forcing the latter to miss the potential game-winning jumper at the end of regulation. And though in overtime, the Suns still came out on top, thanks to a late bucket by big man Jusuf Nurkic, KD couldn't help but give Caruso his due.
"A hard worker who is going to do all he can for his teammates," Durant said when asked about what he thought of Caruso.
"That stuff right there (he does) makes up for a lot of mistakes. Tonight he got his hands on the ball and was able to knock down threes, and that takes him to another level when he's able to knock down three balls like he did tonight and create off the dribble like he did tonight. He's a phenomenal player. I don't want to even call him a role player; he's a guy you can plug with any lineup and he will make the right reads and right plays on the defensive and offensive side and the Bulls are lucky to have him," Durant added.
KD's praise resonated with Caruso who went undrafted but latched on to the Los Angeles Lakers in 2017 and helped that franchise win the NBA title in 2020.
"He showed me some love after the game," Caruso shared. "That's what it's all about. Part of that is he recognizes I've gotten better and I try to make it difficult for him. I love competing against good players."
His teammates feel the same
KD sure felt Caruso's pesky presence throughout the game, and the Bulls were the better for it. Chicago trailed by 18 early, 22-4, but Caruso quickly turned things around for the Bulls with his hustle and timely shotmaking. Three straight triples late in the first pulled the Bulls to within single digits before tying the game at 57-all at halftime.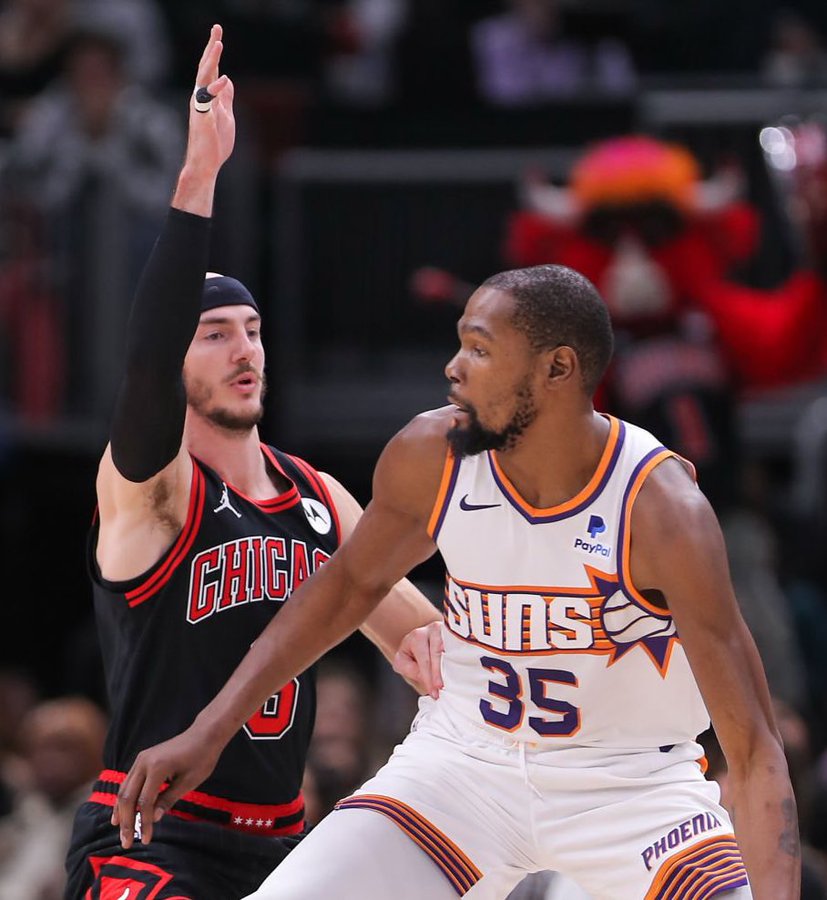 All-Star guard Zach LaVine exclaimed how much of a privilege it is to have the "Bald Mamba" as their teammate.
"Alex goes out there and plays all out always," LaVine shared. "It's a privilege to have him on your team for how smart he is and how he sacrifices his body. That's just how he plays and how he is. The 19 points is a bonus, but him impacting the game is more than that; he does that every night."
Alex Caruso's defense vs Kevin Durant last night:

1/7 FG
2 turnovers
1 block

🔒🔒🔒

(Via @nbastats ) pic.twitter.com/3JRq8iDSJO

— NBACentral (@TheDunkCentral) November 9, 2023