Only Wilt Chamberlain (780 games), Michael Jordan (852) and Kareem Abdul-Jabbar (965) reached the milestone in fewer games.
With a blow by dunk late in the 4th quarter of the Suns' stunning 115-114 loss to the Spurs, Kevin Durant became the 12th player in NBA history to surpass 27,000 career points.
Durant is the second active player with 27,000 points, joining all-time scoring leader LeBron James (38,740).
Durant reached the milestone in 990 career games. Only three players got there faster: Wilt Chamberlain (780), Michael Jordan (852) and Kareem Abdul-Jabbar (965).
Assuming good health, Durant should enter the top 10 before the All-Star break. He needs 312 points to catch Elvin Hayes (27,313) and another 96 points to surpass Moses Malone (27,409).
Congrats to @KDTrey5 of the @Suns for becoming the 12th player in NBA history to score 27,000 career points! pic.twitter.com/1icsKsda3s

— NBA (@NBA) November 1, 2023
In his much-anticipated matchup with rookie sensation Victor Wembanyama, Durant finished with 26 points and 7 assists. Wembanyama had 18 points, 8 rebounds and 4 blocks.
Ahead of the game, Wembanyama revealed that he admires Durant's game.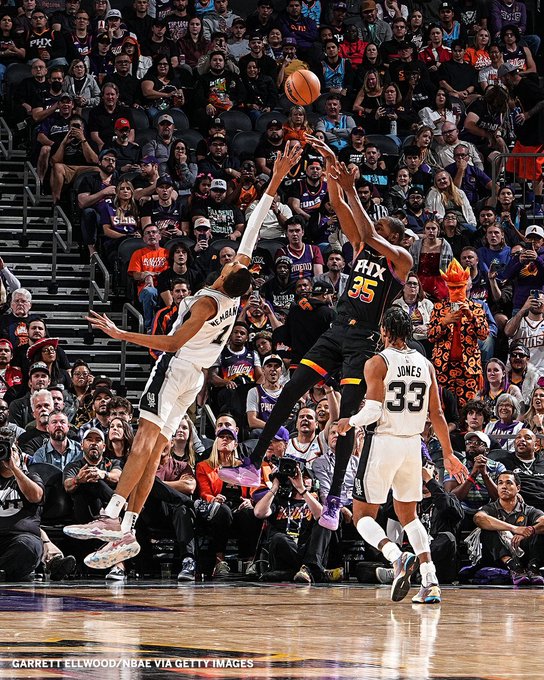 "I like the fact that for years and years, nobody found a way to guard him really, consistently," Wembanyama said. "This is probably the reason why he [Kevin Durant] was one of my top favorite players ever."
Durant was asked about what that meant to him before the game.
"It means I'm old," joked Durant.
The Suns and Spurs meet again Thursday in Phoenix.