Jaylen Brown scores: These are the 5 biggest contracts in the NBA
Jaylen Brown just signed a $304 million contract with the Boston Celtics. Here's a look at the other highest-paying active NBA contracts — for now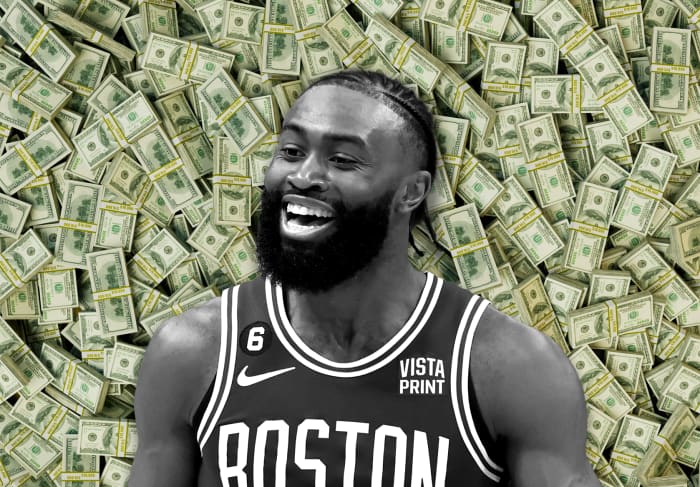 Celtics player Jaylen Brown is the owner of a new, history-making $304 million contract. MARKETWATCH PHOTO ILLUSTRATION/GETTY IMAGES, ISTOCKPHOTO
Jaylen Brown has made basketball history.
Brown, 26, and the Boston Celtics set a record this week when the forward inked a $304 million contract, the largest deal in NBA history — for now.
The deal is fully guaranteed, meaning he is protected against any skill decline or injury, and will keep him with the team until 2029.
Every NBA team has an allotted amount of money they can spend on players each year called the salary cap, which is calculated by the amount of money the league makes each year. So because league revenues have been growing, and they're expected to continue to rise with the prospect of a new TV agreement with partners including Disney DIS, 0.00% and Turner, the NBA salary cap is constantly increasing. Hence, bigger and bigger potential contracts.
And that means the latest player who signs a big, new contract is oftentimes the richest player in history for only a short period of time, until the next big deal is made. So Brown's history-making contract may not stay in the top spot for too long. Hot on his heels: his Celtics teammate Jayson Tatum, Dallas Mavericks star Luka Dončić, and Oklahoma City Thunder guard Shai Gilgeous-Alexander, who all may soon be in line to have even bigger contracts in future seasons.
But for now, Brown is on top. So with his historic deal in mind, here's a look at the 5 biggest active NBA contracts, according to Spotrac:
1) Jaylen Brown, $304 million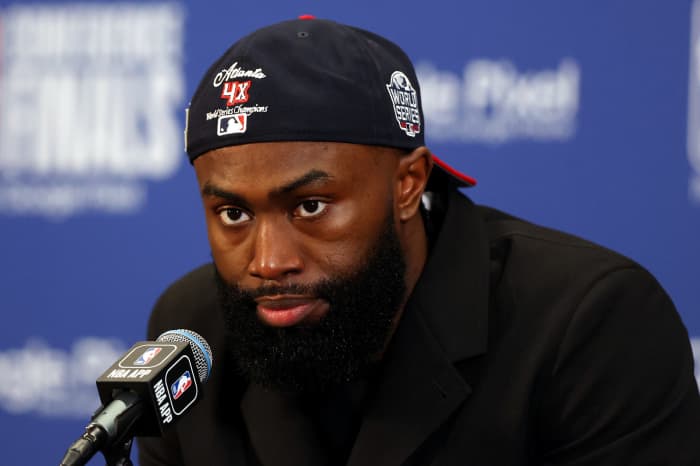 Celtics player Jaylen Brown wants to bring back "Black Wall Street." GETTY IMAGES
Brown signed the maximum five-year contract extension available to him that will pay him an average annual salary of $60.8 million per season, beginning in 2024. The Celtics forward's deal is simultaneously the largest contract in NBA history both in terms of total value and average annual value.
During a press conference this week announcing his deal, Brown, a Black man, also discussed investing in the local community, and addressed the wealth disparity in Boston, the city where the Celtics play.
"I want to launch a project to bring Black Wall Street to Boston and help bridge the wealth gap," he said.
"I want to attack that wealth gap here in Boston, create a project… Help stimulate the overall economy and I want to bring Black Wall Street here."

Jaylen Brown on his plans for the community with his new $304M Celtics deal 🗣

(via @NBCSCeltics)pic.twitter.com/CLWYMU6CF8

— ClutchPoints (@ClutchPoints) July 27, 2023
2) Nikola Jokić, $276 million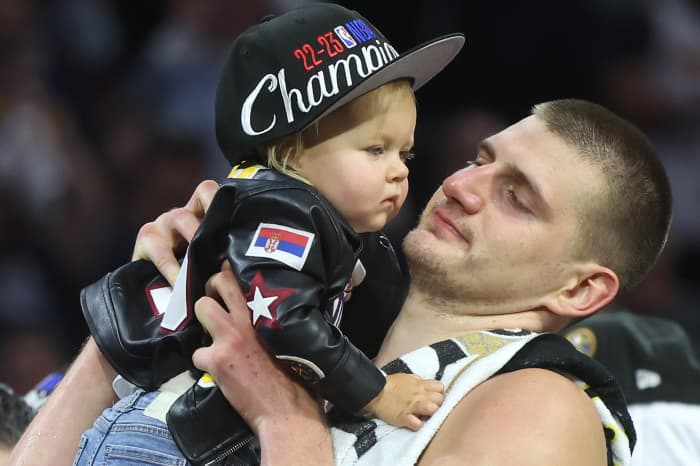 Nikola Jokić of the Denver Nuggets celebrates with his daughter Ognjena after winning the NBA Finals. GETTY IMAGES
Denver Nuggets center and newly-minted NBA champion Nikola Jokić, 27, is the second-highest paid player in the NBA. Jokić's contract is for five years and carries an average annual value of $55 million.
Jokić lives in his home country Serbia in the offseason, and is famous for his simple off-court lifestyle of racing horses.
3) Bradley Beal, $251 million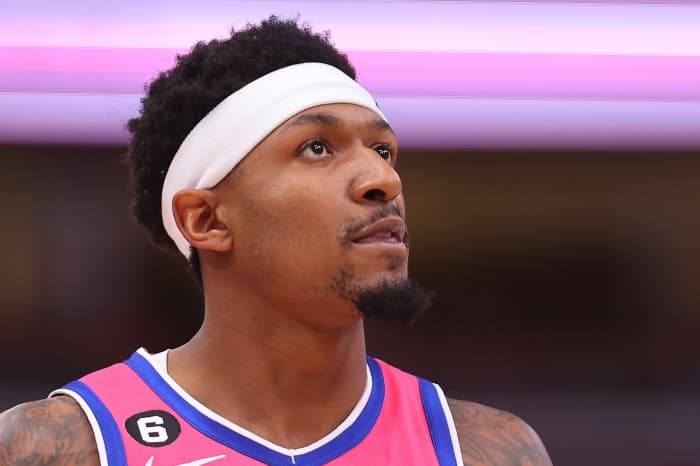 New Phoenix Suns guard Bradley Beal signed a big contract with the Wizards and then was traded to the Suns. GETTY IMAGES
Bradley Beal, who was traded from the Washington Wizards to the Phoenix Suns during the offseason, signed a five-year contract last year worth an average of $50 million per season.
Beal, 29, is the oldest player on this list, and is new teammates with Devin Booker and Kevin Durant on the Suns – a team that is seen as one of the title favorites for the upcoming NBA season.
T-4) Devin Booker, $234 million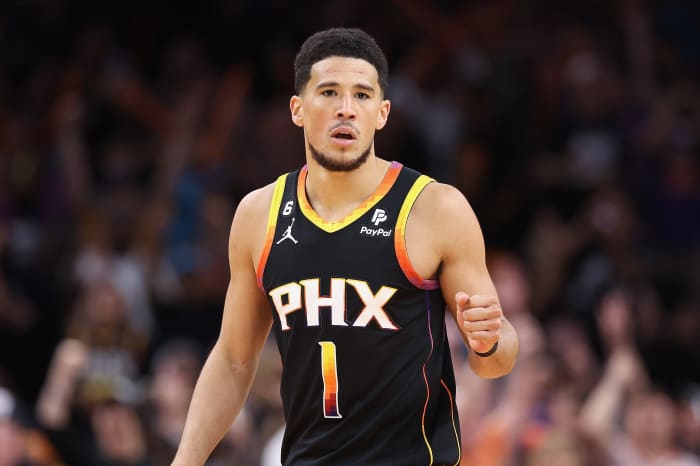 Suns All-Star guard Devin Booker is one of the highest paid players in the NBA. GETTY IMAGES
The Suns guard is currently owner of a four-year contract extension worth an average of $56 million per season.
Booker, 27, is one of the best young players in the league, and has played in the NBA Finals and is a three-time NBA All-Star
T-4) Karl-Anthony Towns, $234 million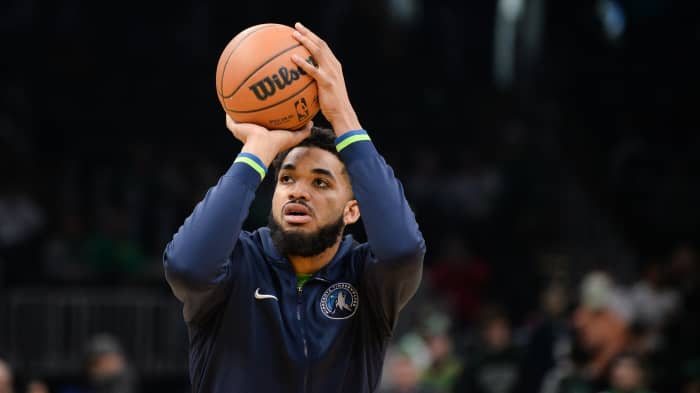 Karl-Anthony Towns of the Minnesota Timberwolves has one of the biggest contracts in the NBA in total value. GETTY IMAGES
The Minnesota Timberwolves frontcourt player has a four-year contract worth an average of $56 million per season; the same deal as Booker.
Towns, 28, is a three-time NBA All-Star, and has been subject to a series of trade rumors over the summer.
Despite these eye-popping numbers, some athletes in other sports like baseball, football and soccer have even bigger contracts.
In the MLB, for example, there are 11 players who have deals worth more in total money than Brown, and one player, Mike Trout, has a $426 million contract. Patrick Mahomes holds the NFL's biggest contract at $450 million, and Lionel Messi signed a $674 million contract with F.C. Barcelona in 2017.